ASK A PROPHET | V.E. Schwab Has a Masters in Monsters 
The author of 'Vicious' and 'This Savage Song' talks about her writing process and what she wants to see on more bookshelves.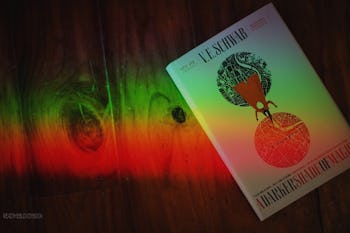 In "Ask a Prophet," we use our alien probes on the brains of sci-fi, fantasy, and speculative fiction writers. This week we spoke to Victoria Schwab, author of urban fantasy novels like Vicious, which is currently in development for a film adaptation with Ridley Scott's Scott Free Productions, The Archived, A Darker Shade of Magic, and, most recently, This Savage Song.
What's your approach to world building?
I'm what I call a chipmunk author. I like gather pieces of a story over a long period of time until I have enough. But when it comes to the actual designing of the story and the world, setting comes first. And the reason that it does is because I write about outsiders. All of my main characters in all of my books are outsiders of the society that they live in. So in order to understand the outsiders, I have to understand the insiders. And in order to understand the insiders, I have to understand the society that they're inside. And in order to understand the society that they're inside, I have to understand the world. And so I actually tend to start with designing the world that my people are going to populate — and that's from the technicalities of the world down to the folklores and the stories they tell and the idiomatic expressions that they have. Then I work from there.
And to build the folklore and all the idiosyncrasies of the world, do you do much outside research?
I have an academic background — I actually just got my master's degree in monsters. I study depictions of monstrosity in medieval art. And so I'm constantly looking at cultural narrative through a kind of academic lens, and because that's something that's always interested me, the best research I've done is to be a very present learner of the world around me. I'm really fascinated by cultural narratives and by what forms that fabric of society — whether it's the stories that your parents tell you before bed when you're growing up or whether it's the more folkloric origins of life and death and the seasons. I'm not sure that I ever think of it as research, because it's just something that I love learning about.
What's an interesting monster that you think does not appear enough in stories?
One of the themes that's central to something like This Savage Song is that I'm actually way more interested in the people that make the monsters or that fear the monsters. So in medieval art, when you're studying monsters, what you're actually studying are the people at that time period and what they feared. And so monsters in any setting are really a reflection of the humans. Between that and my love of anti-heroes, I think I'm way more interested in monsterous humans than in monsters themselves. So I tend to gravitate toward everything from the sociopaths and the killers to people who have inner demons and the differences between people who try to suppress inner demons and the people who let them go. As much as I love writing about things with teeth and claws and such, I'm actually much more captivated by the kind of monstrosity that you can't see on the surface.
It might be silly to ask if you have a favorite of your books, but did any most pleasantly surprise you in the experience of writing it?
The thing about writing and publishing is when you first get started, you're writing in a cave and nobody can see it. Then when you become published and you're under contract a lot, you are writing in a glass bubble and everyone can see in. And it's difficult as a creative person. But I wrote Vicious in secret over the course of three years. I didn't tell anyone that I was writing it — not my agent, not my friends, not anyone. It was such a restorative process to have a project that I had no concerns about whether it was going to get published. It was just for me to discover my love of writing at kind of a vulnerable period for me when I was really struggling to hold on to that love. I think my readers can usually tell it's the book I had the most fun writing because I got to make everything as dark as I wanted.
Speaking of Vicious, is there any news on the movie front?
It's still in development. I always think publishing moves slowly, and then I see the film industry and I'm like, "You make publishing look like a brisk walk!"
How have you seen the fantasy genre change during your time in it?
There are trends that come in waves, as trends do. I will always write things with a supernatural bent because growing up, I was the kid that wanted the world to be stranger than it was. As an adult, I'm still the one who wants the world to be stranger than it is. That's my breed of escapism. But the longer I'm in the industry, the more I realize that good stories find their readers. Fantasy has been having this great heyday, but then I think of a book like Simon vs. the Homo Sapiens Agenda, which is contemporary realism and LGBTQ. It's getting so much love and that makes me happy, because maybe the trend is fantasy, and then I see a book come along that bucks all of those things. I think the industry has a way of focusing on trend in a way that readerships don't actually care. They just want good stories.
What are some of your favorite books you've read recently?
The things that I've been loving lately have been Leigh Bardugo's Six of Crows. In contemporary I'm a big fan of Adam Silvera. More Happy Than Not is such a beautiful book. I love the Captive Prince series by C.S. Pacat. I just read number9dream by David Mitchell. I'm currently reading Wink Poppy Midnight by April Tucholke. I read a lot of non-fiction too; I just finished The Devil in the White City by Erik Larson.
And are there any TV shows you're currently following?
I am a huge fan of Peaky Blinders, which is delightful. I'm also a fan of things like The Flash. I'm less a fan of Arrow because I feel like at some point you have to raise the stakes enough that if you push somebody off a mountain after stabbing them through the chest, they should probably die. Even the comic book lover in me is like, "Alright dude." But I love Daredevil and Jessica Jones and Penny Dreadful. And I'm a big fan of Archer — when you write dark things, every now and then you need a break.
Since fantasy is growing across every medium, what excites you most about the future of the genre?
I want people to take more chances. I see a lot of fantasies set in another world, but it's playing by the same rules as ours: Western European, heteronormative, very little change in social dynamics. There's no reason to write a fantasy where everyone is white and straight. I'm gravitating towards books that are taking advantage of the fact that you have this freedom to design a world that is not a replica of our own. Zen Cho does it really well in Sorcerer to the Crown. C.S. Pacat does it well in The Captive Prince series. N.K. Jemisin does it well in The Fifth Season. Scott Lynch is good at it as well and Brian Staveley. I just want to see more ambition. Because fantasy is having this wealth, I have less tolerance for it all looking the same. There's always going to be an audience for a specific kind, but it doesn't all have to be a mash-up classic buzzword titles. Not everything needs to be "The Hunger Games meets Game of Thrones!" We have so much freedom in fantasy to play, and I want to see authors playing.
This interview has been edited for brevity and clarity.