Netflix's New 'Stranger Things' Trailer Promises "Something Is Coming"
The streaming giant's new show looks to be what you get when you cross 'E.T.' with mid-80s Stephen King.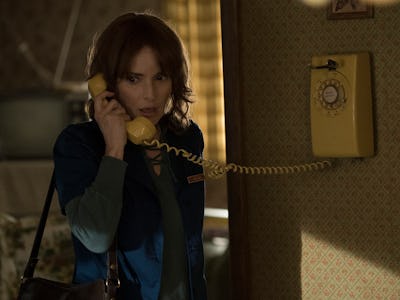 Netflix
Netflix has been mass-producing content over the last few years, which has yielded more than a few forgettable series, but its next TV series has all the makings of a cultural hit. The eight-episode first season of sci-fi thriller Stranger Things debuts July 15 on the streaming giant, and to get audiences curious about its Spielbergian mysteries, the network dropped the show's second trailer today.
Stranger Things has, appropriately, seemed to come out of nowhere, without the endless stream of production updates, teaser images, and other pre-release press that seems to accompany everything these days. Here's all we know: It's a supernatural mystery about a kid who disappears from a small town in Indiana, and is replaced by a girl who seems to be a psychic of some sort. That the show was created by two relative unknowns, Matt and Ross Duffer, makes it all the more an interesting mystery worth exploring.
The other thing that's striking about Stranger Things is the obvious but perfectly executed Spielberg homages. The trailer alone is chock full of E.T. vibes: The suburban 1980s setting, the D&D game, the kids riding around on BMX bikes, and mostly the inexplicably shady government shit going on. Add to that what looks like some macabre Stephen King sensibilities and you can color us excited.
Here's hoping Netflix's new show won't just be a pseudo sequel to Super 8, J.J. Abramss 2011 Spielberg pastiche that had its moments but mostly just made you wonder why you weren't watching E.T. instead.
Here's the updated official synopsis:
"A love letter to the '80s classics that captivated a generation, Stranger Things is set in 1983 Indiana, where a young boy vanishes into thin air. As friends, family and local police search for answers, they are drawn into an extraordinary mystery involving top-secret government experiments, terrifying supernatural forces and one very strange little girl."
Stranger Things stars Winona Ryder, David Harbour, and Matthew Modine. It premieres on Netflix July 15.