Deadpool and Spider-Man Diss 'Batman v Superman' in New Marvel Comic
It was the dawn of boredom for two of Marvel's wise-cracking superheroes.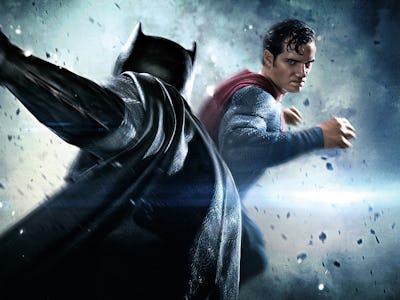 Warner Bros.
Hardcore comic-book fans, except for a few maniacal DCU diehards, generally disliked Batman v Superman: Dawn of Justice as much of the world did. Zack Snyder's depressing take on the world's most iconic heroes from DC is now being lampooned by rival Marvel in a playful panel in Spider-Man/Deadpool #6, written by Comedy Bang! Bang! host Scott Aukerman.
Out today at comic retailers, issue #6 of Marvel's team-up title Spider-Man/Deadpool features the neighborhood webslinger and the Merc with the Mouth walking out of a screening of Nighthawk v Hyperion: Yawn of Boredom with the tagline, "You won't believe their mothers share a first name," a dig at the film's coincidental resolution between the heroes.
Deadpool and Spidey resembled every moviegoer who saw Dawn of Justice, criticizing its ridiculous ending. "And don't worry about scenes that set up the next eight movies," A.O. Spidey says, "Just make this one satisfying!" Oddly enough, you could say the same thing about some of Marvel's own movies.
Nighthawk and Hyperion, who also have their own ongoing solo books, are strong analogs to Batman and Superman by Marvel. The two were introduced in 1969 as part of Squadron Sinister (later Squadron Supreme) a rival team to the Avengers strongly modeled after DC's Justice League.
Like Batman, Nighthawk is a billionaire orphan who uses his fortune to become a superhero, while Hyperion resembles Superman with an alien origin and similar powers, except Hyperion worked for the U.S. government until a recent storyline.
Aukerman, a writer/comedian/producer/TV personality, substituted series writer Ed McGuinness for the issue, which has a much bigger plot than Peter and Wade Go to the Movies. But it's the evening screening that had many comic fans laughing on Reddit (though r/DC_Cinematic didn't take it well, deleting a thread when someone posted it).
There is one major flaw with the joke, pointed out by JeffRyan1 in r/comicbooks: "I can only imagine the never-ending shushing by the rest of the audience if Wade and Peter actually went to see a movie together." Jeff has a point. This comic is so unrealistic. Who wants to see superheroes have fun?