'The Purge: Election Year' Makes A Gruesome Mockery Of Our Divided Political Arena
The reviews are in: James DeMonaco's third installment amps up its socio-political charge to remarkable effect.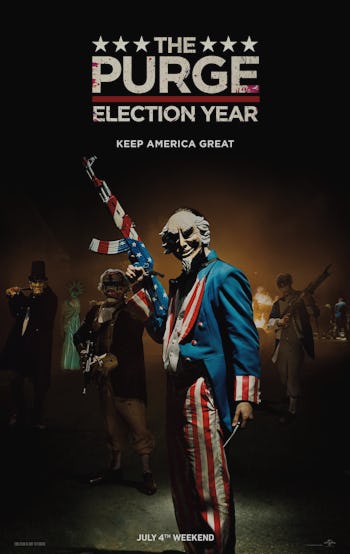 Universal
With Independence Day upon us — the real one, not the alien invasion sequel — Universal is looking to scare moviegoers with The Purge: Election Year, the third installment in the durable dystopian horror franchise arrives July 1. With Election Year, creator and director James DeMonaco taps into the current election cycle, the most divisive in recent memory, with a politically-charged survival horror.
In 2035, U.S. Senator Charlene Roan (Elizabeth Mitchell), the only survivor in her family from a Purge fifteen years earlier, is the front-runner for President on a platform dedicated to ending the annual ritual. A government conspiracy seeking to keep the tradition targets Roan on what could be the final Purge (yeah, sure). An insider betrays Roan and her head of security Leo Barnes (Frank Grillo, reprising his role from The Purge: Anarchy), leaving the two vulnerable to the madness.
The reviews are coming in: Does Election Year make horror movies great again? Though not a perfect movie, apparently it does.
Owen Gleiberman of Variety praises Election Year, warts and all, as an "effective pop rabble-rouser" that benefits from its timely socio-political charge. "In 2016, this is what tasty patriotic popcorn looks like."
"You'd think the concept would now be wearing thin, but Election Year which feels like the final chapter in a trilogy … is the best Purge film yet. The action is excitingly sustained in a way that it wasnt in the previous two, and the political dimension, while crude as hell, exerts a brute-force entertainment value."
Eric Kohn of Indiewire is less enthusiastic but still celebrates its high marks, notably its blunt focus on the premise's racial undertones. "Election Year maintains some appeal for the way it epitomizes what it means to fight through a Trump-like threat to racial equality," writes Kohn. "To DeMonaco's credit, he lets the movie's black characters stand tall and take back the night. Even the cheesiest showdowns carry the whiff of a social conscience."
Ultimately, however, Kohn writes that Election Year fails to fire up the base.
"While The Purge: Anarchy was surprisingly enjoyable, it should come as no great surprise that Election Year does little more than devolve into run-and-gun showdowns and howling lunatics. That's especially unfortunate considering the grand tradition of allegorical horror movies that have something real to say about the world. (George A. Romero and Carpenter are some of the great political commentators of the last century, and this one needs them badly.)"
On the other hand, Dave White of TheWrap celebrates Election Year's purposeful indulgence.
"It's a grim world of nasty pleasures here, the kind you won't feel guilty about unless it all somehow comes true in 2017. In the meantime, theres no real harm in doing like DeMonaco and having your grindhouse cake and eating it, too. Cheer on a violent film about righteous non-violence today, why don't you? There'll be plenty of time to be sorry about it later."
Den of Geek! critic David Crow wasn't entirely sold on Election Year but zeroed in on its further exploration of the wicked universe created by the 2013 original. "Obviously, there are plenty of political overtones to The Purge: Election Year that are about as subtle as an AR-15 rifle," writes Crow. "But where it mostly succeeds is in the little bits of world-building it adds to this universe, making it all the more fun."
But Crow knocks the film for its "headache-inducing" photography as well as its confusing message that criticizes violence but simultaneously revels in it.
" … The Purge franchise's desire to have its bullet-filled cake and eat it too catches up with it. Again, this is a film openly criticizing gun laws in this country, yet still glorifies the power of semi-automatic fire in every other set-piece as the bad guys drop like flies. There is potential after Election Year for another sequel, but maybe it's time this current trilogy takes its own advice and lowers the firearm."
Justin Lowe of THR was another vote in favor of Election Year for its "more complex action sequences" and set pieces that are "efficiently executed and visually engaging." Lowe also notes the film's timeliness as its most resonant aspect.
"The potential success of this third iteration may not rely so much on the thriller franchises brand identity as it does on the relatability of the premise, which posits that a presidential contest will determine the ongoing viability of the Purge. Unless they're unusually prescient, it's unlikely that the filmmakers would have clearly foreseen the intensity of current political debate, although the film's unexpected alignment with this year's especially fractious electoral cycle may turn out to be a profitable draw in an opening-weekend field largely devoid of comparable competition."
Universal releases The Purge: Election Year in theaters on July 1.