A Ford Dealership Stole 'Firewatch' Art to Promote a Car Sale
A modern saga unfolds, in several parts.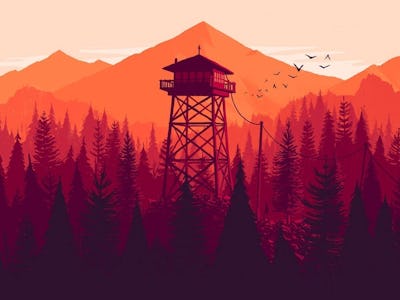 Camp Santo
Earlier this year, independent game developer Camp Santo released its first game, Firewatch. Frankly it's one of the best indie games this year, combining a powerful narrative about human relationships with gorgeous visuals carefully translated from the drawing board to in-game graphics. It's probably those same reasons a local Ford Dealership stole Camp Santo's artwork to promote their own car sale.
Titled the Ford's "Freedom Sales Event", the Massachussets dealership offered lucky buyers a cool new deal on a 2016 Ford Focus. The only problem is that the ad blast they sent out to buyers features artwork lifted directly from Camp Santo's Firewatch. As highlighted by a tweet from app developers, Panic Inc, the dealer's Ford Freedom ad doesn't so much resemble promotional art from Firewatch, as it is the actual art.
Game Informer's Mike Futter reached out to Quirk Ford of Quincy, Massachusetts to inquire about how this art theft occurred. According to Sam Western of Quirk's ad department, the dealership apparently doesn't have a copyright clearance or vetting process in place. Western then hung up on Futter after he pushed for more clarification.
In an update to Game Informer, Quirk Ford followed up by directing Futter to a wallpaper hosting website, and claimed they only use DMCA compliant websites for their ad promotions. Though, as Futter notes, the wallpaper website isn't actually DMCA compliant, and merely offers the ability to file a DMCA complaint.
Camp Santo's co-founder, Sean Vanaman, then called out Quirk on the previous update, explaining that the artwork used by Ford features elements not found in public, and could only have been taken directly from Camp Santo.
Here is an image of a tweet featuring the Ford ad, compared to Camp Santo's copyrighted artwork.
Oddly enough, this isn't the first time Camp Santo has had disputes over their copyrights. Earlier this year, video game website Thumbsticks noticed that Gillette's new Proshield razor featured a logo oddly similar to that of Firewatch's camp employees.
Camp Santo has no official comment on the matter, though Vanaman has been tweeting about the issue.