What an 'Akira' Live Action Film Needs to Get Right
The man who elevated 'Fast & Furious' may take on the sci-fi classic that elevated anime worldwide.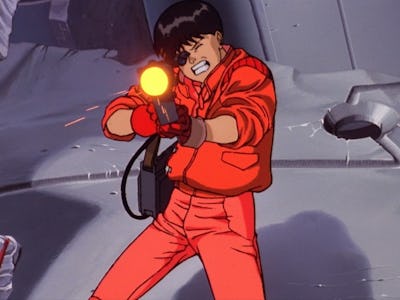 Hollywood studios have been trying to adapt Katsuhiro Otomo's Akira for a long time. The sci-fi manga-turned influential anime movie is one of those "untouchable" stories that requires an incredibly deft touch; adapting it into a summer movie could dilute its themes and resonance on nuclear holocaust. After all, only Japan knows what it's like to be the victim of such an attack. The next up to tackle a live-action adaptation?: Star Trek: Beyond and Fast and Furious director Justin Lin.
Reportedly in talks to helm Warner's long-delayed project (along with Space Jam 2 starring LeBron James), Lin is as a ideal choice to adapt Otomo's Akira into a Hollywood picture. An expert at spectacle filmmaking and making even the dumbest characters into fully-realized individuals, Lin's diverse oeuvre proves he can do cerebral with plenty of commercial appeal.
While Lin's upcoming Star Trek Beyond is not a "cerebral" sci-fi like the TV show that inspired it, Lin is no stranger to smart or strange movies outside convention. In 2002, Lin documented the 21st century Asian-American experience in his gritty crime-drama Better Luck Tomorrow, a film that's as uncompromising as it is engaging.
Later, in his 2007 mockumentary Finishing the Game about Bruce Lee's unfinished kung-fu movie Game of Death, the director showed off well-fleshed characters coexisting in a strange world, all of whom prove a point — which is pretty much Akira to a T. Lin later applied these skills in Fast Five and Fast & Furious 6, high points in a Hollywood franchise he saved from direct-to-DVD hell.
Lin also directed a few episodes of NBC's Community, including the critically acclaimed "Modern Warfare" episode, which spoofed big-budget action within the confines of a TV sitcom. He also directed two episodes of True Detective on HBO.
The Akira manga was adapted in 1988 by Otomo himself into a critically acclaimed film that was credited with vaulting anime from niche interest to the mainstream in America. Akira is set in a dystopian Tokyo of the future and follows two teenaged bikers who stumble onto a government conspiracy when one of them demonstrates extreme psychic abilities. Widely regarded as a classic, Akira is regularly placed on several all-time lists from Empire, IGN, and TIME.
An Akira live-action adaptation has a lot of obstacles, especially if it's going to be made by a Hollywood studio. The 2,000-page manga and two-hour film are densely packed with mature themes: isolation, corruption, and a social order on the brink of collapse. While these concepts can apply to a worldwide audience, these are uniquely late-20th century Japanese anxieties; its two main characters, Tetsuo and Kaneda, are teenage bikers, which echo the dangerous bosozoku subcultures of the '80s and '90s, when aimless Japanese youth hopped on bikes and engaged in violent crime like a gaudy Sons of Anarchy.
Because of its position as a Japanese parable, the casting of Akira will become a huge point of contention. While fans have railed against Hollywood's white-washing of Asian film roles, studios still feel conservative about producing major motion pictures starring Asians or other actors of color. But casting white actors — as in the case of Scarlett Johansson in the case of Ghost in the Shell – could prove ruinous for this story.
The film- to-be will require the exact opposite of conventional Hollywood thinking — prioritizing a nuanced story ahead of explosive special effects, casting people of color, and avoiding the desire to turn it into a franchise (six books does not equal six movies) — to make it a success.