Hillary Clinton IT Aide Bryan Pagliano Spent 14 Minutes Giving the Same Answer 122 Times
That's a whole lot of wasted time.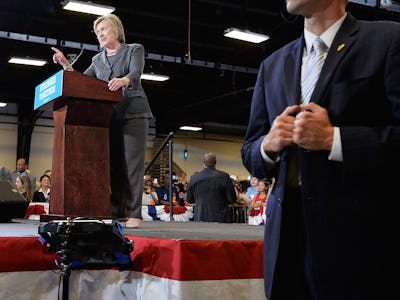 Getty Images / Sara D. Davis
Hillary Clinton's IT specialist Bryan Pagliano knows how to spin a broken record. In a private 90-minute deposition by the conservative watchdog group Judicial Watch on Wednesday, Pagliano spent the 80-minute interview replying to every question with basically the same prepared statement a total of 122 times.
"On the advice of counsel, I will decline to answer your question in reliance on my rights under the Fifth Amendment to the United States Constitution," was the refrain.
It takes about seven seconds to say that aloud. Give or take the variations in Pagliano's phrasing, that's about 14 minutes, or about 17 percent of the hour-and-twenty-minute deposition.
As one unnamed official put it to Fox News: "It was a sad day for government transparency."
Pagliano was questioned by Judicial Watch as a part of a series of Freedom of Information Act lawsuits filed against the State Department. Through this lawsuit, Judicial Watch intends to make public how Clinton's private email server was set up. The watchdog group thumbed Pagliano for a deposition because it believes he helped set up and manage Clintons personal server.
Judicial Watch, in a news release on Thursday, said he refused to answer questions about "whether the system was set up to thwart the Freedom of Information Act (FOIA); any email-related discussions with Clinton and her top aides; how the system was set up; whether Clinton deleted government records; and recent discussions he may have had with Clinton's lawyers about the email issue."
Clinton's camp rejects the notion that Pagliano helped Clinton with a private server. A lawyer for Cheryl Mills, a senior Clinton aide, instructed Mills not to answer whether Pagliano was an "agent of the Clintons," Fox News reports.
The Justice and State Departments disagree with the premise of Judicial Watch's lawsuits, since the information that Judicial Watch is hoping to find through deposition has already been made public through Clinton's testimony before the House Select Committee on Benghazi in October.
Federal judges, on the other hand, are allowing Judicial Watch to move forward with depositions in the cases because questions need to be answered about how Clinton's email server was set up, Politico reports.
If Judicial Watch gets a whole lot more responses like Pagliano's, the total time wasted could really add up.