The Indiana Jones Cinematic Universe Is Coming, Disney Chief Says
It won't be as big as the 'Star Wars' universe, but Disney has grand plans for Indiana Jones.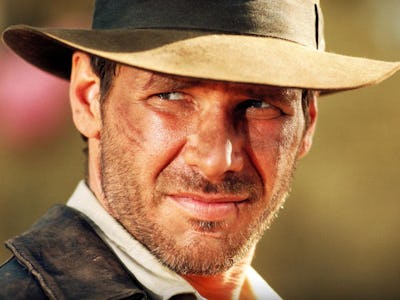 Getty Images / Alberto E. Rodriguez
When Disney acquired Lucasfilm in 2012, it didn't only get Star Wars, it also got its hands on every other property under the Lucasfilm banner – including Indiana Jones. While details about the adventures of Dr. Henry "Indiana" Jones took a backseat to the Force Awakens, Disney's chief has offered some new details on even more Indiana Jones movies.
Disney CEO Bob Iger gave a sprawling but insightful interview with The Hollywood Reporter, which highlighted the normal Star Wars stuff as well as what it's like to be the guy running the biggest entertainment company on the planet (galaxy?). When the interviewer asked him about Indy, Iger gave some clarifying and confused answers.
Here's what we know:
Disney's Indiana Jones Universe Won't Be Like the Star Wars Universe
George Lucas created such a huge canvas to tell a specific story that it still lent itself to endless newer stories told in weird spinoffs, comic books, and different media. Iger told THR that just isn't the case with Indy – and it makes sense. "I don't think [Indiana Jones] reaches the scale of the universe of Star Wars, but I see making more. It won't be just a one-off," Iger said of Indy 5. Look forward to more Indy, but will it feature Harrison Ford?
First it's Indy 5, Then a Reboot
"Right now, we're focused on a reboot, or a continuum and then a reboot of some sort," Iger tells THR. It looks like the fifth Indy movie, which has a release date sometime in 2019, involving Steven Spielberg and Ford, could be a swan song of sorts. And then they'll look to redo the whole thing. Unfortunately Iger doesn't specify as it seems like they're still in the planning stages of what lies beyond 5, so you'll just have to wait to see if we'll get a new version of Raiders of the Lost Ark with a new Indy after 2019.
Harrison Ford May or May Not Be Back for Indy 6
It seems like Iger doesn't really know what to call Indy 6, and it's probably all up to what is plausible at this point. Sean Connery was only 59 when he played Indy's dad in The Last Crusade in 1989. Harrison Ford was the ripe old age of 66 when he appeared in Kingdom of the Crystal Skull in 2008. Harrison Ford is currently 73 years old and will be 76 when the fifth movie is released, and its probably safe to say an Indy pushing 80 won't make for good action cinema. The sixth movie will most likely recast Indy, which is sure to anger a lot of fans, though said fans should remember that four other actors besides Ford have played Jones onscreen: River Phoenix in The Last Crusade, as well as Cory Carrier, Sean Patrick Flannery, and George Hall in The Young Indiana Jones Chronicles. Of the potential sixth movie, Iger says, "It's not really a reboot, it's a boot — a reboot. I don't know." Shia LeBeouf, who played Jones's son in Crystal Skull has a chance in an alternate-universe.
Indiana Jones had taken a back seat to the world of Star Wars until earlier this year when Ford and Spielberg announced they will return for a fifth Indy movie after 2008's somewhat lackluster Kingdom of the Crystal Skull. No new information was known about Lucasfilm's future plans for Indy, until now.
Indiana Jones 5 is set to open July 19, 2019. After that, who knows?