Why YG's 'Still Brazy' is a Street Rap Landmark
The Compton rapper's project is a beacon of hope in an age of fewer unassuming major-label rap albums.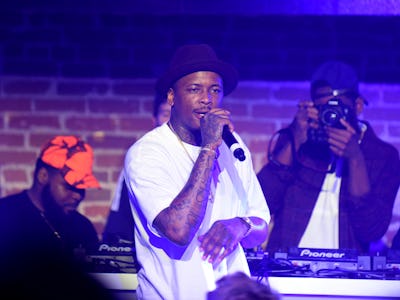 Getty Images / Jonathan Moore
Compton's second-biggest hip-hop poster child at the moment, YG, is a more essential figure in hip-hop than a casual observer might give him credit for. It isn't just the inherent quality of the music on his 2014 debut My Krazy Life and last week's Apple Music-backed Still Brazy that makes him relevant; it's that the albums exist at all. Precious few non-legacy rappers with a sensibility as traditional as his — without genre-bending, courting major cosigns or even changing the BPM — manage to squeeze two major-label studio projects out in a couple, or even a few, years. It took a major push and a gold certification for his debut, no doubt, to get Still Brazy, (YG's most technically impressive and full-bodied project to date), a release date.
Sure, they are a few still-rising street rappers who have managed this without courting pop appeal or specific trends. Chicago's Lil Durk, despite garnering a third of YG's sales for his long-pushed-back Remember My Name last year, is getting a second go-round with the aptly titled Lil Durk 2x, due this Friday. Meek Mill, even before his Drake spat and raised profile on Nicki's arm, has pushed out two major label projects this decade. But neither of these rappers' studio work feels as concerted as YG's, which both seem organized like installments in a multi-volume autobiography. From one to the other, they illustrate the Compton rapper pushing himself to further his artistry.
My Krazy Life illustrated an ambitious step forward from the ratchet-styled tunnelvision of his DJ Mustard-dominated mixtapes, and definitely the dance hit which made him a figure of note, 2009's indelible "Toot It and Boot It." The album mixed traditional West Coast gangsta-rap reference points with a heightened lyrical ambition to form 2014's most cohesive studio rap album, surprising fans with detours like narrative track "Meet the Flockers," the self-analytical "Sorry Momma," and a Kendrick features on the breathless "Smokin N Drinkin."
On Still Brazy, YG's lips flap faster and his themes expand, '90s nostalgia still intact. Political sentiments interweave with the expected street autobiographies, going beyond the primary colors of this year's Soundcloud Nipsey Hussle collaboration "FDT" ("Fuck Donald Trump") and betraying YG's increased dedication to community activism. The album feels both musically restrained — thanks to bringing on thoughtful producers like HBK Gang's P-Lo make this an engaging choice — and, bar by bar, more urgent than Krazy. Despite a few big hooks and noted guest spots (a Drake collaboration, as it did with Krazy, upped the stakes on the rollout) it's less commercial. There's little to rival Krazy's club-wrecking triumphs like "Left, Right" and "My Hitta," YG's biggest hit to date, which found its way onto the album after success as a mixtape single; it's hard to not to blame the absence of his now-less-than-best-friend Mustard for some of this. But with continued listening, Brazy may prove the more impressive achievement.
First-week numbers indicate that Brazy's penchant for subtlety will be reflected in more understated first-week sales, clocking in precisely halfway between his comrade-in-arms Ty Dolla $ign's excellent but undersung Free TC of last year (roughly 21,000) and the 60-plus sales of Krazy. Given the quality of the project, however, one hopes that YG, who has now turned in two of the more impressive studio rap albums of the past half-decade, will be allowed to cruise alongside the passing lane for at least a few high-profile projects longer. Perhaps Still Brazy's burn will increase over time, despite the publics deathly short attention span; perhaps the critical attention from major outlets will make him continue to seem like a worthy investment for Def Jam.
YG's albums remind us of times in history — the mid-'90s or the early '00s — where rap-for-rap's-sake was at a commercial peak on both the albums and singles charts. These albums, we remember, were awesome; sure, Still Brazy isn't The Chronic, but it scratches a specific, enduring itch for rap fans. Go check it out now, if you haven't already.