The 5 Best Songs Off YG's New Album 'Still Brazy'
The LA artist is back with another Grammy-worthy album.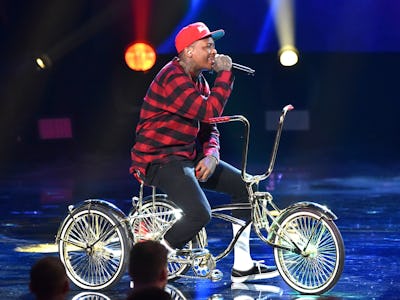 Getty Images / Kevin Winter
It has been a little over a year since Los Angeles rapper, YG, was shot in the hip at a recording studio in Studio City. In his first interview after the incident, YG revealed he left the hospital the very day he was shot, and immediately returned to work on the album. He released his second studio album, Still Brazy, for streaming on Apple Music yesterday, ant it's nothing short of amazing. Fans can hear the time and the dedication that YG took in making this masterpiece.
He has significantly progressed since his album, My Krazy Life was snubbed for a Grammy nomination. Whereas My Krazy Life was mainly party anthems and gangster rap songs encompassing a day in the life of YG, Still Brazy covers everything from socio-political issues to cheating on a significant other. Yet, it all meshes well together. Without the repetitive "Hey" sample and hi-hat melody that DJ Mustard is known for, this album really shines as a complete project that an audience will not get tired of hearing.
Even though it was difficult to choose, here is a list of the five best tracks off of the album – songs that fully display the difference and the growth in YG as an artist.
5. "Blacks and Browns" (feat. Sad Boy)
This song is one of the realest tracks on the album, as YG displays his socially conscious side. He speaks about real issues that are afflicting the black community and the steps that others can take to fix them. Sad Boy is a Chicano rap artist, who follows YG by speaking on immigration issues and police prejudice. Not to mention, the heavy bass line lends itself to the lyrics. This song needs a real listen through, not just a skim.
4. "Bool, Balm, and Bollective/ "Gimmie Got Shot"
Why is YG so good? His storytelling draws the listener in, and his stories are both hilarious and compelling. Both of these songs tell stories of lies and betrayal. It is almost comparable to the storytelling that Notorious B.I.G. displayed in "Warning". A big comparison? Yes. Is it the truth? Yes.
3. "Twist My Fingaz"
"Do ya dance YG / Do ya dance." This was the first single off of the album even though it didn't earn that much radio play. But, the g-funk rhythm on this beat is so good. Nate Dogg is probably smiling from Heaven after hearing this song, Warren G is chilling in his crib saying, "Damn, that boy good". This song is the one that will be blasted as people drive down the block.
2. "Still Brazy"
YG creates a powerful song over a funky beat that may make the listener want to dance. However, the lyrics are so poignant that they must not be overlooked. YG is struggling and it could be heard throughout this song. The shooting has clearly affected him and the paranoia, problems, and money is changing his outlook on life.
1. "Who Shot Me"
"Damn, did the homies set me up?" Like "Still Brazy", YG is wrestling with the aftermath of the shooting and most importantly, he doesn't know who shot him. He details the night in a way that almost makes the listeners feel as if they were present. The paranoia is clearly exemplified in this song. It is reminiscent of the same paranoia one might feel listening to Geto Boys' "Mind Playing Tricks on Me". Another big comparison? Yes. Again, is it fact? Yes.
This album must be listened to in its entirety. Every song offers something different. YG deserves to be nominated for a Grammy because this album is better than the last. Still Brazy is out June 17th.
Correction 6/16/2016: In the original version of this article, it was stated that YG's album was nominated for a Grammy, when, in fact, he was not. The article has been edited to reflect that.