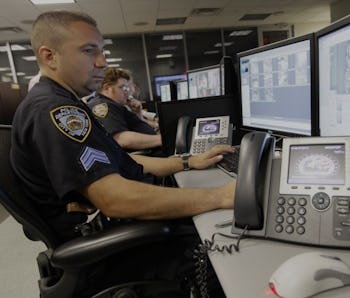 Culture
EFF Calls for a Day of Action in Defense of Internet Privacy
New changes to Rule 41 may give law enforcement even more ability to hack into civilians' computers.
AP Photo/Mary Altaffer
The Electronic Frontier Foundation is taking a stand against potential changes to Rule 41, which will "greatly increase" the abilities of law enforcement when it comes to hacking into personal computers. Today, the EFF began a new campaign, calling for a Day of Action on June 21st in order to protest the changes. According to the EFF, these changes will go into effect in December of this year if nothing is done to change them.
"EFF, the Tor Project, and dozens of other organizations concerned about the future of our digital security are taking a stand for users everywhere," the post explained. It all kicked off on June 21st, when website owners and citizens are being urged to take action all at once in protest of the new changes to Rule 41.
The group says that government agents hacking into computers the way these changes will allow spells out disaster for the future. According to EFF, the changes cause law enforcement to "increase their exploitation of security vulnerabilities" in everyday software, meaning that "vulnerabilities that could affect millions will be left open instead of patched." The report goes on to state that law enforcement will be able to obtain warrants simply by picking out forums posts, and government-friendly magistrate judges will sign off on them. "If this rule change is not stopped, anyone who is using any technological means to safeguard their location privacy could find themselves suddenly in the jurisdiction of a prosecutor-friendly or technically-naïve judge, anywhere in the country," read the company's full report on the rule's changes. EFF says that this is a direct violation of the Fourth Amendment, and they intend to stop it.
Anyone who wants to get involved can take action in one of several ways: EFF has created a code to embed on a personal website, as well as a downloadable banner for anyone who wants to self-host the image. The EFF is also encouraging people to email their members of Congress ahead of the vote, and especially on the 21st.