The 6 Biggest Stories Out of EA's E3 Conference, Including 'Mass Effect', and 'FIFA'
'Titanfall 2', 'Mass Effect', 'Madden' and more all from EA at this year's E3.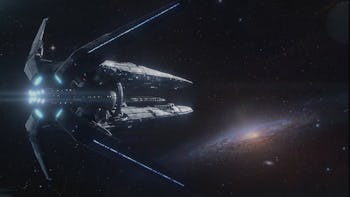 EA, BioWare
Electronic Arts kicked off E3 2016 today in Los Angeles with a conference that showed off the company's biggest announcements and although the show's big Titanfall 2 news was leaked several hours before the actual show, EA still managed to pull off a few surprises this year.
The big stories coming out of the company includes fan favorites like a new Mass Effect, but also a brand new eSports initiative and fresh Star Wars games.
For more on what you'll be playing from EA later this year and beyond, here are the biggest items out of this year's EA conference:
Mass Effect: Andromeda
EA and BioWare showed off the highly anticipated new chapter in the Mass Effect series. Titled Mass Effect: Andromeda, the new game will take place long after the original trilogy ends. Showing off new enemies, spaceships, locales, and characters, the new trailer does a great job at introducing players to the next chapter of the Mass Effect Series.
Titanfall 2 Story Mode
The first Titanfall game was a fantastic multiplayer experience, allowing players to take control of their very own mechanical robots. The only problem was that the lack of any narrative, single-player campaign severely hurt the game's ability to appeal to broader audiences. EA and Call of Duty: Modern Warfare developers, Respawn Entertainment, look to remedy this in the sequel. Today, they showed off a brand new trailer that focused entirely on the new single-player campaign. Check it out below.
FIFA 17: The Journey Story Mode
The newest in EA's long-running FIFA soccer games, FIFA 17 will introduce a brand new, narrative story mode. Players will have access to the story of Alex Hunter, a young football fan turned rookie in England's Premier League. The story is expected to be a dramatic story through the inner workings of the professional British football league as Hunter will have to prove his worth to his teammates and managers. The story mode is a first for any FIFA video game, and follows in the footsteps of NBA 2K16 and Fight Night Championship
eSports Tournament from EA Sports
EA is jumping on the eSports craze with a brand new eSports initiative. Announced at this year's E3, Electronic Arts plans on sponsoring a brand new, eSport tournament for their sports title, Madden NFL 16.
Overseeing four "EA Major" events, players of the new Madden game can compete at all levels to rise up and play for a million-dollar prize. Peter Moore will oversee the tournament as EA's new "Chief Competition Officer". The company even announced an elite tournament in Madden NFL 16 which kicks off today and play through the rest of E3 2016.
Battlefield 1
Similar to the Battlefield 1 event earlier this year, EA showed off a brand new trailer for their upcoming World War 1 first-person shooter. On stage, EA expanded upon some of the new features of the game, including the "Behemoths" or large vehicles that can be manned by the players during combat.
EA's Many Star Wars Games
While there were no specific titles shown premiering at the conference, EA expanded upon their commitment to delivering a diverse offering of games based on the Star Wars license. DICE is already working on Star Wars Battlefront, but today brought new footage from Dead Space developer Visceral's unnamed Star Wars game. In addition, it was revealed that Titanfall 2 developer Respawn Entertainment is also working on a Star Wars title.
EA Originals Will Bring Emotional Indie Games to Players
Built on the success of this year's indie darling, Unraveled, EA is seeking to bring more independent video games to players. EA Originals is a new program launched by the company to help develop games that are "unique, gorgeous, innovative, and memorable." Their first game is from Swedish developer Zoink Games, called Fe. Fe is described as a "personal narrative about our relationship with nature." Have a look at the new trailer below.