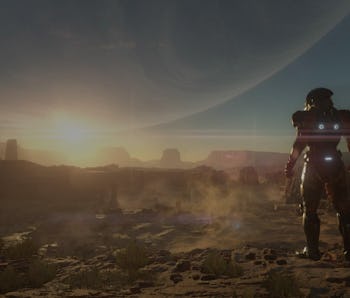 Gaming
Get a New Look at BioWare's 'Mass Effect: Andromeda'
'Mass Effect' is back and bigger than ever.
BioWare, EA
Today at EA's E3 conference, BioWare showed off a brand new peek at its upcoming game, Mass Effect: Andromeda. Combining new footage with behind-the-scenes commentary, the Mass Effect game looks to be a bigger, more ambitious chapter to the beloved space-opera series.
Andromeda's trailer begins with a promise that BioWare will be going "further than ever before," a goal reminiscent of Star Trek's mission statement. In fact, everything about Andromeda evokes the freedom of space exploration the original Star Trek series captured all those years ago.
The video, which shows some of the development behind the new game, shows off bigger enemies, expansive new worlds, and brand new characters. Aaryn Flynn, general manager of BioWare, explained today that "at the heart of Mass Effect: Andromeda is a question, 'How far will we go?'"
The video, which is light on story plot, hints that the mission for the player in the new game is to explore far-out planets to find a new home for humanity.
When the game was announced in 2014, BioWare mentioned that Andromeda takes place after the first three games, and in a whole new environment. This is evident from what appears to be the new main character of the series shown at the very end of the trailer.
Reports from Polygon say that the game will have a big focus on new alien races. The many different species of aliens that populate the Mass Effect universe have become beloved by gamers for their distinctive characteristics, and lovable quirks. While these new races aren't present in the trailer, old familiar faces and vehicles return, as well as a brand new spaceship that the player presumably serves as a crew member on.
Get a look at the new trailer below. Mass Effect: Andromeda was originally slated for this holiday, but was pushed back to 2017 for further development.