Radiohead Embraces Spotify With 'In Rainbows' and 'A Moon Shaped Pool'
The band's 2007 classic is now available for streaming.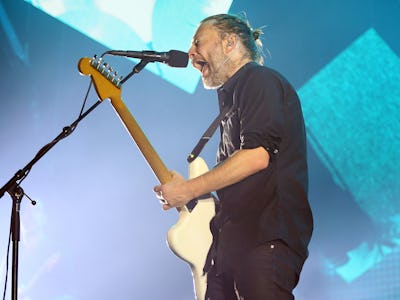 Getty Images
Radiohead - and Spotify - fans rejoice. The British band, whose frontman Thom Yorke has long criticized Spotify for its treatment of artists, looks ready to embrace the streaming service by granting access to its complete album collection. In Rainbows, the 2007 pay-what-you-want album, went live for the first time on Friday, alongside an announcement that recent release, A Moon Shaped Pool, will launch on Spotify next week.
Comments on the Spotify subreddit suggest In Rainbows only went live on June 10 in each region - meaning that Australian and New Zealand listeners were among the first to see the album.
Visitors to Radiohead's artist page on Spotify will also be greeted with a message that A Moon Shaped Pool, the band's latest album released last month, will be available for streaming starting June 17. The album is already available for streaming on Google Music, Apple Music and Tidal - making Spotify one of the last major streaming services to receive access.
All of the band's other major albums, including 2011's The King of Limbs, were already available on Spotify. Next week's release of A Moon Shaped Pool will complete the collection.
The move is a major departure from Yorke's previous stance on Spotify. In 2013, he described the service as "the last desperate fart of a dying corpse." Yorke made the comments during an interview with Mexican site Sopitas, and he mentioned the unique self-publishing route the band took with for In Rainbows. Fans could visit the band's website and choose to pay whichever amount they felt was appropriate. The experiment was not repeated for subsequent albums, but it had a long-lasting effect on the conversation around music pricing and artist compensation.
"When we did the In Rainbows thing what was most exciting was the idea you could have a direct connection between you as a musician and your audience," Yorke told Sopitas. "You cut all of it out, it's just that and that. And then all these fuckers get in a way, like Spotify suddenly trying to become the gatekeepers to the whole process."
In the years since his comments, it seems that Yorke has softened his opposition. Nonetheless, the release of A Moon Shaped Pool comes over a month after its May 8 release. Hardcore Radiohead fans will have had to look elsewhere to hear the new release.