How To Listen To Radiohead's New Album 'A Moon Shaped Pool'
Five years after "The King of Limbs," Radiohead is back.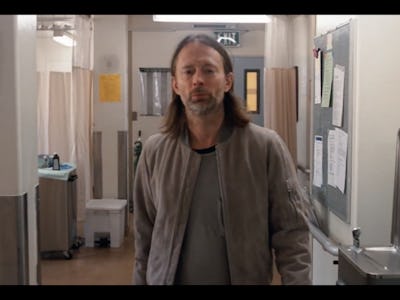 Radiohead/YouTube
The wait is finally over. Radiohead's ninth studio album, A Moon Shaped Pool, launched on Sunday at 2 p.m. Eastern. The album launched ahead of time on the iTunes Store and Apple Music streaming service. It is also available from the band's own Waste store in 320kbps MP3, 16-bit WAV and 24-bit WAV.
Radiohead's last album, 2011's The King of Limbs, surprised critics with its experimental use of electronic beats and samplings of natural sound. Nonetheless, it was a hit, and holds a score of 80 out of 100 on Metacritic. Anticipation for the band's follow-up ran high, after a slowly building hype campaign set fan communities into a flurry of speculation.
The album features two previously released singles: "Burn the Witch" and "Daydreamer." Based on that, Radiohead has given us an idea of the best ways to stream its latest album — if and when it arrives on services.
In something of a change of heart for Radiohead, both singles were available for streaming on Spotify, Tidal and Apple Music. This is despite frontman Thom Yorke's description of Spotify as "the last desperate fart of a dying corpse" in an interview with Sopitas in Mexico that was translated by NME. Unless Radiohead suddenly changes its mind again, the album will likely be available for streaming on these platforms.
Spotify is available on a selection of platforms. A free, ad-supported tier is definitely the cheapest way to hear the album, but it means a short ad interrupting the album every few songs or so. Removing the ads will cost $9.99 per month, or $4.99 for students. (It's not on Spotify yet, although it may very well be there soon).
Apple Music is totally ad-free, priced at $9.99 per month for an individual or $4.99 for a student. The signup process is simple and only takes a few seconds. The problem is, there's no free tier for Apple Music. There's a chance, however, that you're one of the lucky few yet to use their three month free trial that Apple provides to everyone. If so, Apple should prompt to use the free trial during the signup process.
Tidal is a good option for those who care about the best quality possible. The service costs $9.99 per month for the regular tier, or $19.99 per month for Tidal HiFi, which streams lossless FLAC files instead of the AAC format that may degrade quality slightly.
Those who don't care much for virtual songs, streaming or otherwise, will have the chance to buy Radiohead's album in physical format when it arrives in stores June 17.