Does Radiohead's Blank Facebook And Twitter Mean A New Album Is Coming?
Radiohead.com is also completely blank.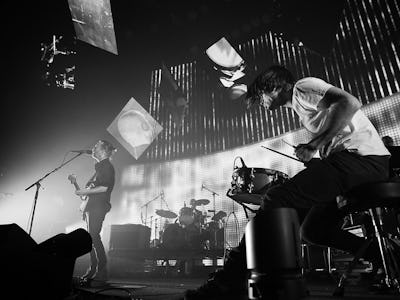 Getty Images
Radiohead's online presence, it seems, is literally fading away. The band has been removing all its Twitter and Facebook posts, while the Radiohead.com website no longer has any content on it. Reddit users on the Radiohead subreddit slowly noticed the website growing less and less opaque on Sunday, decreasing in opacity around every 10 minutes until it was gone.
Hype has been slowly building around the band's expected ninth album, although it is not clear at this stage whether this social media stunt is part of the marketing or not. Fans are speculating that "LP9" (as the album is referred to) may arrive when the website returns, noting that the site's HTML code suggests the opacity may be gradually returning.
The band's Facebook posts are all missing, while its profile picture and cover photo have been replaced with a solid white image. Radiohead's Twitter page is now using the same style, simply stating that Radiohead has not yet tweeted.
It's not the first sign that LP9 could be imminent. On Saturday, fans who had purchased merchandise through the band's website received a mysterious leaflet in the mail.
The band unexpectedly released their last album, The King of Limbs, on February 18, 2011. The album was billed as the first "newspaper album," available in a special edition that contained 625 tiny pieces of artwork.
Radiohead gave out a newspaper called "The Universal Sigh" to promote the album, with Thom Yorke appearing at the Rough Trade East record store in London to hand out copies upon its release. Stanley Donwood, Radiohead's artwork designer, told NME that the newspaper idea came about as "a newspaper is just a simple statement, an account of how things were at the time of writing."
On 24 December, 2015, the band revealed it has been asked to write the theme song for Spectre, the most recent James Bond film. The collaboration did not work out, but the band released the song it recorded for streaming on Soundcloud.
Radiohead is currently gearing up to start a worldwide tour, with the first gig scheduled for May 20 in Amsterdam.