POTUS on Fallon: Writes Thank You Letters, Busts Out Dance Moves, Parties With Madonna
President Barack Obama's farewell tour is just an ongoing mic drop. He stopped by 'Fallon' tonight to talk about the future.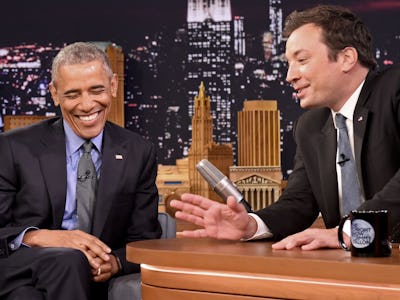 NBC
As trash fires ignite on all sides of the political sphere, one cool, calm character is navigating his way out: President Barack Obama stopped by The Tonight Show with Jimmy Fallon this evening to talk (and make fun of) politics. For his part, Human Fluff Ball Jimmy Fallon welcomed the Commander-in-Chief with his standard giggly charm that, to this day, hardly allows him to complete jokes without laughing at them. Kudos to you, Fallon Writers.
The night was a total blast, but wasn't without its difficult questions. Fallon put the President on the spot regarding Donald Trump, Hillary Clinton, and where retirement might take him — all questions that the President took in stride and didn't consider 'too hard' to answer in the least. Ahem.
The President spent a good portion of the night going through some of Fallon's most popular segments. This included Slow Jamming the News:
Writing "Thank You Notes" to D.C. colleagues, and taking this shot at Congress:
Made sure to give Fallon some love so that he didn't get those pesky Chihuahua shakes of nervousness:
Weighed in on the Big Orange Elephant in the Room:
And palled around with a fangirling Madonna:
Before dropping the mic on the evening:
As the heat of the Presidential campaign continues, it's nice to just sit back and enjoy the fun of Obama's road to retirement. Sure, the world might end afterwards, but at least we've got the good times.