Facebook Will Soon Let You Livestream 'Overwatch' 
Dominate your friends and their timelines in 'Overwatch' with Facebook live-video this month.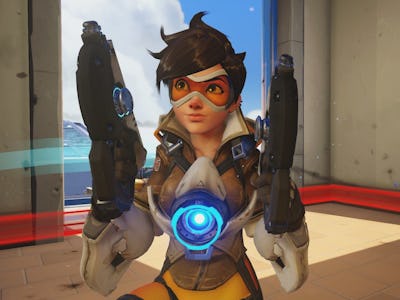 Blizzard
If you play video games – and even if you don't – your Facebook feed has begun to drizzle with posts about the first-person shooter Overwatch. Those drizzles are about to turn into a flood.
This morning, Blizzard Entertainment announced that it will implement Facebook Live API, allowing players to log in to Hearthstone, World of Warcraft, Diablo III, StarCraft II, and the newest sensation Overwatch and live-stream sessions onto their timelines later this month via PC. No definite start date was announced, though.
The new features will allow friends to subscribe to other player's timelines, notifying them when a new stream has begun. Presumably, as with Facebook's current live streaming video functionality, friends and subscribers can comment and share while tuned in to the stream.
"Blizzard games are best when played with friends, so it's important to us to provide our players with features and services that make it easy and fun to share their experiences with each other," said Blizzard executive vice president of corporate operations Gio Hunt. "We're working closely with Facebook on this integration for Overwatch, as well as our other games, and we look forward to sharing further details on our plans as development progresses."
This new development was almost inevitable, given the popularity of Facebook video and game streaming on platforms like Twitch. Blizzard started streaming on Facebook this year with "Heroes of the Dorm," the collegiate Heroes of the Storm tournament that aired on ESPN 2 last year. At the launch of Overwatch last week, which Elon Musk is a fan for whatever that's worth, Blizzard live-streamed the event for its 3 million fans.
The unity between Facebook and Blizzard wasn't overnight. To prep for Overwatch's launch, Facebook and Blizzard worked on a "comprehensive mix" of marketing solutions using Facebook's targeting capabilities. This helped expose Overwatch to 1.65 billion people, which explains why everyone is obsessed about it and you're a loser if you're not playing it.
Overwatch is now available on PlayStation 4, Xbox One, and PC worldwide.