Walmart Is Half a Year Away From Checking Warehouse Inventory With Drones
Drones will help keep big retailers competitive in the age of automation.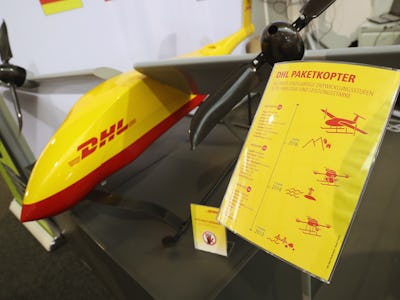 Getty Images / Sean Gallup
Walmart Inc. announced Thursday that the company is six to nine months away from using drones to check inventory in their warehouses located across the United States. Both the New York Times and Reuters have reported the story during a demonstration of Walmart's drone technology on Thursday.
"We are still in early phases of testing and understanding how drones can be better used in different types of business functions," Shekar Natarajan, Vice President of Last Mile and Emerging Sciences, told reporters during the demonstration at one of the company's regional distribution centers.
The demonstration drone successfully scanned warehouse products at 30 FPS, and caught products that were either incorrectly stocked, or low in supply. Natarajan claimed that drones could reduce the time it takes to complete inventory in the warehouse, doing in a single day what takes a whole month to complete manually with a human workforce.
The company applied for permission to use drones for home deliveries, pickup, and warehouse inventory checks back in October of 2015. This was seen as a move to better compete with Amazon and its aggressive push into incorporating drones into its everyday services. Programs like Amazon Prime Air, which is a conceptual program that will allow the online retailer to deliver packages same-day using drones as delivery services.
In the face of increasing competition from low cost retailers, especially Amazon, Walmart is looking for ways to cut costs and maximize labor efficiency. Walmart is working on drones but also virtual reality and other emerging technologies. Walmart assuaged concerns that drones will take over jobs previously held by humans by saying that the future role of drones in the company is still up in the air.