Walmart to Rain Consumer Goods Down From the Heavens With Drones
Retail behemoth eyes drones.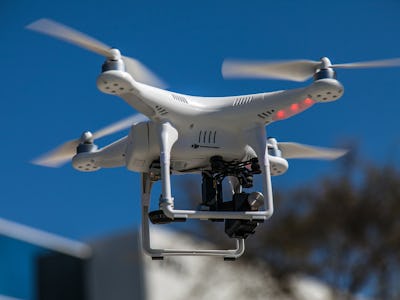 Flickr.com/Kevin Baird
And on the first day of the week the Lord of Retail, Walmart, did petition the Federal Aviation Administration, saying, let us rain consumer goods down from the heavens with drones!
If the FAA looks upon Walmart's drone works and sees that they are good, such machines — created by China's SZ DJI Technology Co Ltd., which begat the Phantom and S900— would flit from Walmart to Walmart and Walmart to household or curb. For, as a New Yorker is never more than six feet from a rat, every other American is not but five miles from a Walmart.
When it comes to bestowing its goods upon the people via drones, Walmart "is ready to move forward as quickly as possible," Dan Toporek, a Walmart spokesman tells the New York Times.
Lest you believe that Walmart walks the dusty beach alone, here Walmart is but chewing the sand of Amazon, that Beast of the One-Click Purchase and Prime. When Amazon did offer up its drone delivery ideas to the FAA, the FAA was pleased, for it believed Amazon's plans were good.
Amazon founder Jeff Bezos famously unveiled his drone delivery idea on 60 Minutes (fast-forward to the eleven-minute mark):
Toporek, again to the Times, echoes some of that same enthusiasm Bezos shared with Charlie Rose in the clip above: "When you have stores within five miles of 70 percent of the U.S. population, we have close reach to get to a lot of people."
And as Walmart and Amazon go, so too goes Google's Project Wing, though it seems NASA, not the FAA, has blessed this program: