The Ninebot by Segway MiniPRO Could Be the Hoverboard We've Been Waiting For
The hands-free, self-balancing devices haven't started bursting into flames...yet.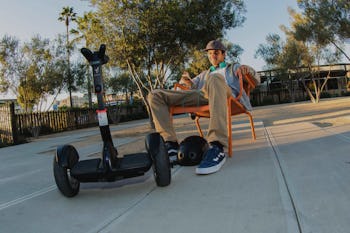 Segway miniPRO
Hoverboards are infamous for one major reason: Namely, their tendency to spontaneously explode into flames because of cheaply made batteries. Enter Segway, makers of the two-wheeled self-balancing vehicle that's carved a niche into our culture via hilarious Segway tours across the world's cities. It may not win any style points, but it definitely doesn't explode when you ride it. Segway's Ninebot aims to save the hoverboard and revive the company's fledgling reputation at the same time.
Advanced self-balancing technology powers the Ninebot's on-board computer. Complex algorithms, sensors, and high-speed processors track the rider's movements over 100 times per second, providing a smooth and hands-free riding experience. The safety controls on the Ninebot, which have earned the product the UL's crucial 2272 safety certification, help the device learn and adapt to the rider's tendencies, while the 10.5" inflatable, shock-absorbing tires make for seamless rides indoors and out.
The Ninebot pairs with a mobile app that allows riders to "monitor speed, view dashboard performance data, customize lighting on the unit, engage a tamper-proof security alarm and remotely operate the device unmanned," according to the Segway MiniPRO press release.
Powered by a lithium-ion battery that can be charged anywhere, the Ninebot provides a seamless and user friendly riding experience that makes it easy for riders to move forward, stop, and make 360 degree turns. It can travel up to 14 miles on a single charge and can reach a top-speed of 10 mph. The aircraft-grade magnesium alloy frame gives the product a lightweight and portable design that makes it easy to stow in a vehicle or carry by hand.
The Ninebot's design falls somewhere between a proper Segway and a hoverboard. Like a segway and a hoverboard, the new product operates on self-balancing technology, but the adjustable knee control bar that provides additional balance and support is a compromise between a segway's hand-held feature and a hoverboard's low-to-the-ground appeal.
The good news is you'll be able to get your feet on a Ninebot within the next month. It's currently available for preorder on Amazon with free shipping at a price of $990, $300 less than its $1,299 listed price. Preordered miniPROs, which have been available since June 1st, will be delivered to customers sometime later this month.
We'll keep you posted if the Ninebots start bursting into flames, but for now, all signs point to an innovative, hands-free, and agile way to get around.