SpaceX's Falcon 9 Does the Superhero Landing in a New Video
SpaceX shared a great timelapse video of its Falcon 9 sticking the landing today on Vine.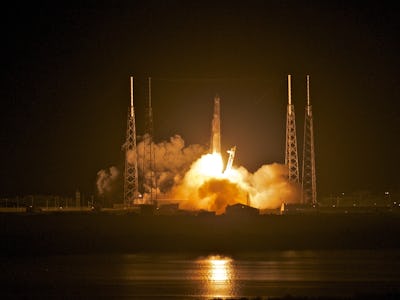 Getty Images / Roberto Gonzalez
SpaceX has been enjoying a pleasant spring and early summer's worth of great landings and perfect take-offs. Despite delays to a few launches, (the latest occurring last week) the company has seen great improvement over its initial tests of the Falcon 9, and the rocket has helped carry out several cargo missions to the International Space Station ever since.
Last week, SpaceX gave rocket enthusiasts a look at what re-entering the atmosphere and sticking the landing aboard the drone ship Of Course I Still Love You looked like — from the Falcon 9's perspective. Now, as if in a delightful marriage of the two, SpaceX has released a new Vine video of their most recent landing; this time from the perspective of the drone ship itself.
It's the Falcon 9!
SpaceX is currently preparing for their next mission, and most recently announced that the Falcon 9 meant for the trip had just arrived at its Cape Canaveral launch site in Florida. The company is part of a fairly vicious race toward commercial space travel, and most recently, SpaceX's own Elon Musk said that the company plans on launching the first crewed trip to Mars in 2024, with the future space travelers landing on the red planet in 2025. For now, SpaceX's missions are strictly meant for cargo delivery to and from the ISS.