Alphabet's Sidewalk Labs Forms Partnership to End Traffic Jams
Transportation For America will launch a study to analyze America's infrastructure.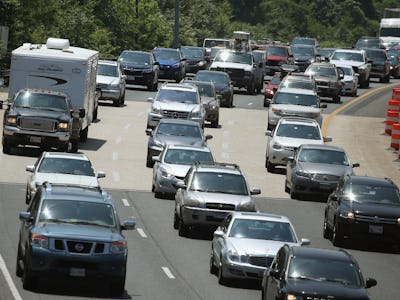 Mark Wilson/Getty Images
For most cities, traffic is a nightmare and Google parent company Alphabet, Inc. thinks it can help solve the problem of congested roadways and limited parking via digitized streets that serve up all kinds of data about traffic to a centralized computer. But, this plan is going nowhere if cities aren't on board.
That's why Alphabet's Sidewalk Labs announced today its partnership with the non-profit Transportation For America, which has deep ties to local, state, and federal governments. Google hopes these connections can be leveraged to enact its vision for the future.
"Too often there's a disconnect between tech interventions and transportation outcomes," says Sidewalk Labs executive Anand Babu. "By drawing on Transportation for America's long experience working within local communities, we can focus the conversation on cities' goals and break down the divide between technologists and city leaders."
As part of the partnership, Transportation For America will launch a study analyzing the state of America's current transportation policy and technology, and "build a peer-learning collaborative of city leaders to define and design the connected streets of the future."
The Alphabet subsidiary has previously revealed it is working on a "digital district" that could either be a city built from the ground-up with Google enabled technologies, or a city in which Sidewalk Labs must work around the existing infrastructure. Today's partnership suggests the latter is more likely, but the two moves are by no means exclusive (Google could certainly work with local governments and build its own city at the same time.)
Transportation For America has a vision that aligns with the goals of Sidewalk Labs: Both aim to transform urban areas big and small to better serve the needs of its citizens with an emphasis on infrastructure within communities, rather than the highways that connect them.
"We continually hear from cities who want better tools to tackle the same problems of congestion, growing commutes, and access to affordable transportation options," said James Corless, director of Transportation for America. "Working with Sidewalk Labs, we can help local leaders learn about the possibilities presented by emerging technologies, but also help first codify what they want to achieve in terms of transportation equity, reliability, and access, so the technology can be put to best use."
In addition to Sidewalk Labs' proposed digital district and this new partnership, the subsidiary is also coordinating with the U.S. Department of Transportation to implement its Flow system. The platform is designed to optimize road, parking, and transit use in urban centers and will be implemented across the seven finalist cities in the department's Smart City Challenge including: Austin, TX; Columbus, OH; Denver, CO; Kansas City, MO; Pittsburgh, PA; Portland, OR; and San Francisco, CA.
The company is also know for its LinkNYC kiosks that provide wifi connectivity and information kiosks found in subways and street corners around New York City.