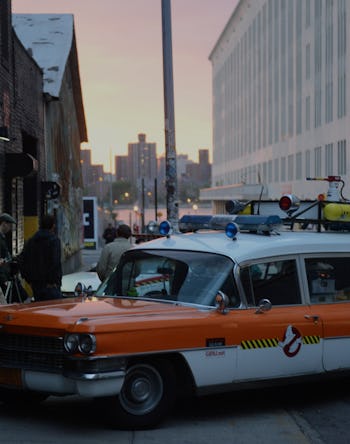 Entertainment
You Can Now Act Out 'Ghostbuster' IRL
Inverse spoke with BBQ Films co-founder Gabriel Rhoads about bringing classic movies like 'Ghostbusters' to life with immersive screening experiences.
BBQ Films
On a Brooklyn street corner right outside a dive bar, dozens stopped to take photos of a large group of people gathered to fight ghosts. Decked out in tan jumpsuits and outfitted with unlicensed nuclear accelerators on their back, the gang of paranormal investigators knocked back their beers, stubbed out their cigarettes, and peeled away in their retrofitted 1959 Cadillac Ecto-1, as onlookers snapped as many iPhone photos as they could.
The fandom of these Ghostbusters fans was real, but thankfully the proton packs they wore weren't, and neither were the ghosts they were out to bust. But the folks at BBQ Films, who assembled the Ghostbusters fans to help promote the latest in their series of events that bring cult classic films to life through immersive experiences, want you to believe they are.
Starting on June 8, BBQ Films will feature a series of screenings of the 1984 film Ghostbusters in a Brooklyn warehouse setup to be the new Ghostbusters HQ. The events will be in collaboration with Sony Pictures's upcoming Ghostbusters film, and before watching the original fans can check out the new Ecto-1 and experience events that will hopefully put them in the middle of the ghostbusting action.
BBQ Films has staged similar events tied to movies like Bettlejuice's wedding, foot clan tryouts for Teenage Mutant Ninja Turtles, Back to the Future's Enchantment Under the Sea Dance, the blood rave from Blade, Patrick Bateman's 27th Birthday Party from American Psycho, and more. Inverse spoke to Gabriel Rhoads, the group's co-founder, about immersive experiences, believing in ghosts, and the triumphant return of Ecto Cooler.
Why Ghostbusters right now? Is it just perfect timing with the new movie?
I think we could've done Ghostbusters at any time, but one of the fun reasons to be able to do this right now is because we're teaming up with Sony Pictures. This will be the only immersive cinematic performance available worldwide right now for the film. It's a really wonderful moment to be able to celebrate something in the lead-up to the new movie, but honor the past and the more than three decades of love for the Ghostbusters that New York City has had.
So it's the first time BBQ Films has collaborated this closely with a studio for an immersive experience?
It is indeed. We certainly license all the films we've done, and we definitely interact with the studios for all of them. But this is the first time we've teamed up with a studio to be deliberate about how our event is actually contributing to the narrative of fandom leading up to the new release.
The other film experiences you've done before haven't been tied to a specific movie release. Is that important? You previously did a Ninja Turtles experience, so I'm surprised you didn't do one for the upcoming sequel.
Each studio has different plans for ways in which they want to kind of activate the fandom for previous films in advance of releasing a new one. Ninja Turtles was one of my favorites BBQ Films events, but in this particular case it really lined up with Ghostbusters. It's been 30 years, we've all grown up with it, and there's been a smile on our faces the entire way through it.
How did the team-up with Sony come about?
Our general publicity is what attracted the attention. Specifically we showed up in an article in the New York Times that got us on their radar. But we license these films from studios so we're always on people's radar. This just happened to be a great studio opportunity and one that we hope to replicate.
How do you choose movies for immersive experience? Is it just easy based on the fandom from particular movies?
That's a big part of it. We know which ones are going to be blockbusters and which ones aren't in terms of fandom. But one of the interesting puzzles of doing this is turning a movie that has a very different kind of fanbase into the same type of thing. We did a Weekend at Bernie's event, and everybody knows the movie, but there's not fandom for Weekend at Bernie's like there's fandom for Teenage Mutant Ninja Turtles or Ghostbusters. Theres still important things these stories have to say, and it's all about finding those concepts and celebrating that.
How did you want to do that with the Ghostbusters experience?
It's 2016, our theory is that we still need the Ghostbusters, and we're inviting you to come with the firm belief that ghosts are real. You can sign up to be a Ghostbuster, you can also report a ghost sighting if you've experienced one, and you can come and just get a chance to celebrate Ghostbusting history. The concept is "We're ready to believe you."
There's also a "where are they now" idea from the 1984 movie. So when you come to the event it's all about what happened to these Ghostbusters that we heard a lot about in the '80s. They got their Manhattan location shutdown so they had to move to Brooklyn, so what does that actually look and feel like, and that's what we're bringing to our audience.
Do you think BBQ Films events are for super-fans or casual fans or both?
Our events are targeted around fans of film and stories and social events — not necessarily just super-fans. What we're encouraging people to do is to come and enjoy a unique social experience with a story that they likely know, but maybe don't. Some people came to our events and saw the movie for the first time and said it was a really amazing way to see something for the first time.
Who would you say makes up most of the audience?
People that like live theater. People that like experiences instead of passively watching something, which is really important because we don't ever purport that this type of art form ever replaces traditional cinema. We love traditional cinema. This is something different for people who want to be in the center of the story that's being told.
So what comes first, the movie or the BBQ Films experience? Or is it just kind of a big swirl all around?
That's the best way I've ever heard it described: big swirl all around is the way to say it. It is experience, it is story, and it is space. We're looking for spaces reminiscent of these stories we're telling, and uniting the elements we love about these stories, plus these crazy ideas about how to actually bring that alive. When that all hits you feel, "Okay, I know exactly how to do this." That's what happened with Ghostbusters.
One last question: Will there be Ecto Cooler?
There will be Ecto Cooler at the event. There will even be Ecto Cooler cocktails.
This interview has been edited for brevity and clarity. Head over to the BBQ Films website for tickets and further information on upcoming events.