Watch the Final Trailer of the Teenage Mutant Ninja Turtles Movie
Also watch a new international TV spot for the Ninja Turtles sequel that shows off brainy supervillain Krang.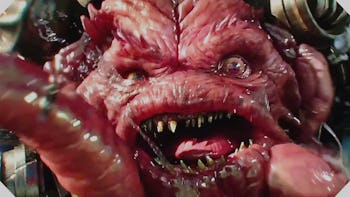 YouTube
The new Ninja Turtles sequel Out of the Shadows is stacked with villains. Shredder returns once again, and the movie introduces Tyler Perry as scientist stooge Baxter Stockman along with Gary Anthony Williams and Stephen "Sheamus" Farrelly as the mutated fan favorite warthog and rhinoceros Bebop and Rocksteady respectively. But a fifth villain will be introduced in the sequel who hasn't had an appearance in a big-screen live action Turtles movie yet: the anthropomorphic brain from another dimension, Krang. The new final trailer for the movie shows off all of them, plus the Turtles skydiving, and more.
Fans of the '90s Ninja Turtles cartoon will know Krang and his bionic robot suit well (see below), but a casting shakeup means you won't recognize his voice. In March, comedian Fred Armisen was announced as the voice of Krang but it looks like he's now been replaced by actor Brad Garrett.
Check out the final trailer below:
The LA Times is reporting that the Everybody Loves Raymond and Finding Nemo actor will voice Krang, which is fascinating for a couple of reasons. First off, Teenage Mutant Ninja Turtles: Out of the Shadows will be released in theaters in just two weeks, so the filmmakers are cutting it pretty damn close. Granted, all Garrett needs to do is spend an afternoon in a sound booth recording his part for the whole movie, which isn't a big deal. James Earl Jones worked on the original Star Wars for a single day as the voice of Darth Vader and he made an indelible impact.
Otherwise, fans will remember Krang's voice from the cartoon as particularly high-pitched, nasally, and naturally Armisen-like. The news of Armisen's casting made perfect sense. But Garrett's singular voice is a natural baritone, which could make for an interesting new interpretation of the character. A brain creature from another dimension can sound like whatever the hell the filmmakers want him to sound like for all we care.
Check out another look at Krang in an international TV spot below:
We'll have to wait and see how all five villains team up to try and destroy the Ninja Turtles, though the final footage that shows off Garrett's supervillain makes it seem like Out of the Shadows has taken a page from the Marvel playbook to feature a giant laser shooting into the sky. Krang looks to have opened some kind of portal to another dimension, and the Ninja Turtles need to stop it.
Teenage Mutant Ninja Turtles: Out of the Shadows hits theaters June 3.