The New 'Ninja Turtles: Out of the Shadows' TV Spots Boast Five Villains
Shredder + Baxter + Bebop + Rocksteady + Krang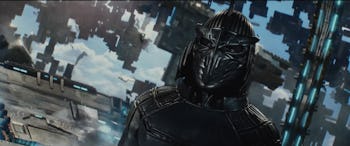 YouTube / TMNTMovie
There's a new Ninja Turtles movie coming out in June, so the rollout to try and get people excited about the sequel is beginning to ramp up. It's no surprise then that Paramount Pictures has released a ton of new Teenage Mutant Ninja Turtles: Out of the Shadows TV spots with new looks at the titular mutated teens, their human counterparts of April O'Neill (Megan Fox) and newbie Casey Jones (Stephen Amell), and more. But they also give us a better look at the movie's new villains — and there's a whole lot of them.
By our count there looks to be five (FIVE!) villains terrorizing the turtles in this sequel, which is a big amount by blockbuster movie standards.
This time around Shredder comes back to make his plans for world domination, Tyler Perry's evil scientist Baxter Stockman is enlisted to help Shredder mutate two dudes into Bebop (Gary Anthony Williams) and Rocksteady (Stephen "Sheamus Farrelly), while sentient brain monster Krang (to be voiced by SNL alum Fred Armisen) comes in from Dimension X to complicate things even further.
Out of the Shadows looks to continue the tone and look of the cartoons (save for the realist character designs for these new turtles), and we know Ninja Turtles producer Michael Bay is a guy that doesn't do anything in a small way. Continuing to take the maximalist approach to the Ninja Turtles in every way isn't surprising. It makes sense too because maybe it's a strength in numbers thing: five bad guys, and four Ninja Turtles plus Casey Jones. Throw in April O'Neill and the odds are in the teenage mutants' favor.
Here's the synopsis:
"Michelangelo, Donatello, Leonardo, and Raphael return to theaters this summer to battle bigger, badder villains, alongside April O'Neil (Megan Fox), Vern Fenwick (Will Arnett), and a newcomer: the hockey-masked vigilante Casey Jones (Stephen Amell). After super villain Shredder escapes custody, he joins forces with mad scientist Baxter Stockman (Tyler Perry) and two dimwitted henchmen, Bebop (Gary Anthony Williams) and Rocksteady (WWE Superstar Stephen "Sheamus" Farrelly), to unleash a diabolical plan to take over the world. As the Turtles prepare to take on Shredder and his new crew, they find themselves facing an even greater evil with similar intentions: the notorious Krang."