New International 'Ghostbusters' Trailer Trolls the Haters
Who you gonna call? Chris Hemsworth.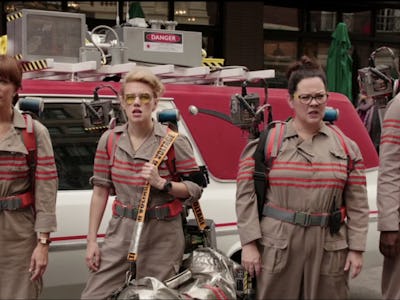 Sony Pictures Releasing Australia/YouTube
The new looks at Ghostbusters are beginning to roll in. Just under a week ago we glimpsed the first footage of director Paul Feig's new Ghostbusters reboot in the fairly kickass trailer. It has its detractors: Some are just wrongfully angry at the new lineup, while others think it did nothing more than nod at the 1984 original. Over and over. It had the Ecto-1, a ghost causing some problems in what looked like a library, the proton packs, the requisite no-ghost logo, and more. Now we have our first look at the international trailer for the movie. It features all of those things, but with a little extra.
The biggest difference? We get a whole lot more of Chris Hemsworth. He showed up looking like his regular beefcake self in the U.S. trailer for a couple of shots, a particularly inspired reversal of the usual action movie dynamic: a bunch of dudes running around while female lead is reduced to scantily-clad eye candy. Hemsworth is pretty funny Cabin in the Woods, Vacation, and even Thor, and he looks to be a great contrast to both Janine Melnitz and Louis Tully from the original movies.
But here, he seems in step with co-stars Kristen Wiig, Kate McKinnon, Leslie Jones, and Melissa McCarthy. It's no easy task to act opposite some of the funniest people in the world. Maybe it's because Hemsworth is more of an international star, but he definitely has a lot more to do in the international trailer.
Take a look for yourself:
Thankfully, it isn't all just a beefy Australian dude cracking jokes. The international trailer also saved room for jabs at the female Ghostbuster haters out there. The last scene with Kevin (Hemsworth) pitching potential Ghostbusters logos is great. Also, after Jones attempts to crowd surf at what will most likely be an Ozzy Osbourne concert, she laments, "I don't know if it was a race thing or a lady thing, but I'm mad as hell."
Take that. Ghostbusters hits theaters on July 15, 2016.