'Wayward Pines' Season 2 Returns Without Moving Forward At All
"Enemy Lines" is an unspectacular soft reboot and continuation of M. Night's best work in years.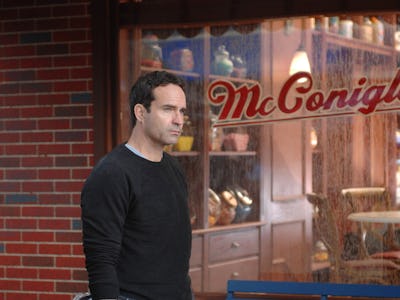 Fox
It's been only a year since Ethan Burke (Matt Dillon) died to save the future of Wayward Pines, the sleepy mountain town meant to be a new Garden of Eden after the apocalypse. Harboring secrets and controlling citizens proved ill for the town, leading to an insurrection that quietly failed. Now, the First Generation, the town's "first" adults, are growing up to fulfill their roles in the Season 2 premiere, "Enemy Lines." But in its return, M. Night Shyamalan's primetime series loses the richly eerie atmosphere that made it so compelling last season.
In place of Matt Dillon's Burke is Jason Patric's Dr. Theo Yedlin, a confident surgeon in a floundering marriage. In a cameo appearance (possibly recurring) by Terrance Howard reprising Sheriff Pope, Patric awakes in Wayward Pines while on a vacation and catches on to the town's dark secrets in record time – at least compared to Burke. He still doesn't know deep Wayward Pines runs, and is still oblivious to the fact that he's been asleep for a few thousand years and everyone he loves is dead, except his wife. But he ends his first episode staring into the dead eyes of a mutant Abbie, so that's a solid start.
But the real flaw of Wayward Pines in Season 2 is its lack of atmosphere. Perhaps that was a one-time thing, as Dillon's Burke learned with the audience how terrifying the town really was. Burke was a trailblazer, while Dr. Yedlin is breathlessly catching up.
Thankfully, Season 1 hasn't been forgotten at all, with "Enemy Lines" serving as a way station into the next chapter. Much of Season 1 remains in returning characters like Ethan's son Ben (Charlie Tahan), now matured into the resistance leader, and Principal Fisher (Hope Davis) quickly elevated to main series antagonist. Pictures of Pilcher (Toby Jones) populate buildings while flashbacks to Dillon's Ethan are prominent.
There's also Carla Gugino's Kate Hewson, whose presence makes you assume she'll be a romantic interest for Yedlin until she cuts her own throat, at last leaving Wayward Pines. It's a welcome divergence, but just unfortunate it's also one of the very few.
It's smart the show isn't taking its time with the reveals, but "Enemy Lines" is spent re-establishing instead of forging ahead with any new identity. As it stands, Wayward Pines threatens to get swallowed up by other genre TV staples on broadcast. It must latch on to something, anything unique before it's too late and Wayward Pines becomes spoken in the same breath of gone-before-its-timers like Firefly or Constantine. This show has the potential to be something contained and special, but its ambition may undermine it.