Everything We Know About 'The Americans' Season 5 and 6, Including Release Dates
The show will end after two more seasons in 2017 and 2018, and we have some premonition of how it will end up.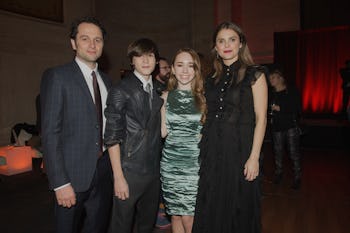 Scott Gries/FX Network
If you are as diehard an Americans fan as we are at Inverse, you might look on today's news (via Deadline) that the FX show will only run another two seasons following this spring's nearly-concluded Season 4. You may consider this a disappointment. But knowing an expiration date is never a bad thing. Even the greatest shows, historically, have gotten markedly worse five or six seasons in (see: The Sopranos S6 and The Wire in S5).
Also, this premonition has been hinted at by the producers for almost half a year now in interviews.
In the winter, co-showrunner Joel Fields said this during a press appearance, about the currently airing Season 4:
"What we do know is that if you were to think of it as a three-act story structure, it feels like were coming toward the end of the second act. Whether it takes a fifth season or a sixth or fifth season to tell the rest of that story, we'll discover as we start to dig into next season's work."
Season 5 is set to air next year, and Season 6 in 2018; after then, Fields and Joe Weisberg will be free to move on fully to other things. Co-Americans-producers FX Productions signed a deal recently with Weisberg and Fields to produce a new show in the future.
Whether it will run simultaneously with the final Americans seasons — or if this means that the two show runners will be less involved with the final two seasons of the show is as of yet unclear.
So what will happen next?
As we move into the third act, it's clear what needs resolution. The arc for the conclusion of Season 4 seems relatively clear a few episodes out. The biological weapons saga has to be concluded one way or the other. A lasting peace, or final solution, for the tenuous Pastor Tim and Alice situation has to be figured out. And as always, a new assessment of the future of Elizabeth (Keri Russell) and Philip (Matthew Rhys) in the KGB must be made.
It seems unlikely that the particular problem will be solved in the next two episodes. But this season, more than even the previous one, has been a mess of the Jennings' vacillating about their feelings on "the cause." Currently, Elizabeth is undergoing a crisis of faith as the methodology behind the Young-hee/Don mission gets more despicable. Philip, along with Dylan Baker's informant William, are unclear about the morality of passing off the most lethal weaponry in existence to the Russians. Do they "trust us with it"?
If they don't defect or flee for moral reasons, it will be Stan, Paige, Pastor Tim, Henry, Matthew, or someone who catches on — at some point. That is, unless the ever-resourceful Weinberg and Fields have something very unusual up their sleeves. There is something, though how unexpected it will be remains to be seen. As Fields told Variety in January:
"We have some big ideas — one big idea in particular — and we'll see if we get to that end point and if we can make it work. We thinking it would be really satisfying. We'll see.
Whatever huge change the Jennings will make, or be forced to make, will begin in Season 5. And with more and more characters starting to be die, or just be ruined forever, we can only expect things to get darker and more demoralizing. But isn't that what we come back to The Americans for every year?