Ben Affleck, DCU's Batman, Thinks Geoff Johns Is "A Fucking Genius"
It appears brand synergy is cooking, over at DC. That's one member of the Justice League psyched to get behind Geoff Johns.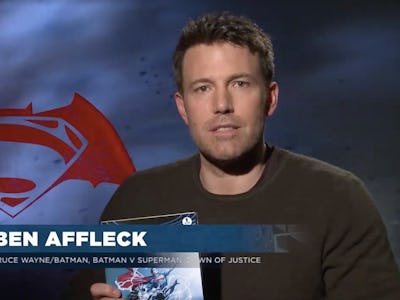 The official Facebook page for Batman v Superman: Dawn of Justice shared a quick video today, in which Ben Affleck, DCU's Batman and recently-promoted Justice League Executive Producer, gushes about Geoff Johns. In an oddly amorous-sounding voice, Affleck calls Johns "a fucking genius" and proclaims that he'd read any of his works.
Notably, Affleck turns a copy of Rebirth over in his hands, looking at the cover a couple times before turning his eyes back to the camera. He says, "I couldn't be more honored and thrilled to be onboard, a part of this DC Universe." Of course, Affleck is referring to the future of the DCU, over which Johns now has partial control. Though he's holding Johns's temporary farewell comic — Johns told Inverse he's taking a hiatus from comics while working on the company's films — Affleck isn't confirming that Batman, in the DCU, will square off against Dr. Manhattan. It's still rumored that Steppenwolf, who was briefly teased in a deleted BvS scene, will be the primary villain in Justice League.
Although Affleck's role in the DCU probably won't overlap with the trajectory Johns started Batman on in Rebirth, it's still heartening to see DC try to promote brand synergy. If Affleck truly is as thrilled about Johns taking the lead as we are, Justice League has a real shot at being both fun and ambitious.