One of These Awesome Board Games Will Be Named Best Game of the Year
The German competition Spiel des Jahres offers the crown prize for board games.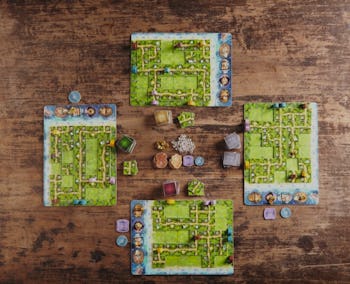 Haba
The German board game competition Spiel des Jahres has announced its nominees for "Best Board Game of the Year." The most famous prize awarded to members of the tabletop gaming industry, which Germany continues to dominate, the title doesn't just add prestige to the game: It means real money. While the sales figures of the game aren't considered in the judging process, being nominated is associated with about a 10,000 unit sales boost, with winners seeing between 300,000 to 500,000 extra copies sold. That's what we call winning the game.
Since 1978 the Spiel des Jahres has judged games for their design and quality. To be considered, the game must have been released in the current or previous year and be available for purchase by the time that the winner is announced in July. Expansion packs cannot be considered and it must be "family and friends" friendly. While games from all over the world can compete, there is still a distinct German-ness to the competition: The game must have a German language distributor, be available in German, and will ultimately be judged by a panel of German-speaking board game journalists.
The Spiel des Jahres website states that when choosing a winner it is the "overall impression that counts" — there's a certain je ne sais quoi to the whole thing. Still, there has to be a winner (even if the prize is just being called the best). Here's our bet on who is going to take the top prize, ranked from least to most likely:
Karuba
Created by Dorn Rüdiger, Karuba is a family-friend Indiana Jones-type adventure game. It's a tile-laying race game where the objective is to figure out how to "navigate" through the jungle, get to a temple, and receive points. Available for $34.99 on Amazon the game involves strategy and critical thinking — exactly the sort of dynamic components that Spiel des Jahres considers when looking for a unique game.
Recommended for 8 and up, the 40 minute game is an updated version of the classic match game. This makes it fun — but not necessarily a "completely new concept," something that the judges will be looking for. Karuba looks fun, but gets a third place ranking from us.
Imhotep
Imhotep isn't available on the market yet — the Spiel des Jahres team is judging off a pre-production version (a representative from its distributor Thames & Kosmos tells Inverse it will be ready for mass consumption by the end of June.) It's also ranked beneath Karuba on Board Game Geek — it got a 6.9 while the island-treasure hunting game got a 7.5.
That said, it still seems dope as hell. The premise is that everyone is competing to be Egypt's best builder (players are straight up told to demonstrate "ruthless determination.") Over six rounds, players take turns carefully choosing actions that will let them build pyramids, obelisks, chamber tombs, and temples — they can either do what is best for them, or try to thwart their rival builders.
It's an original concept that alternates between an offensive and defensive game — a compelling scenario that puts it above Karuba on the Inverse ranking. It was also designed in Germany — lending it a bit of a home team advantage when it comes to the Spiel des Jahres.
Codenames
Inverse has been crushing on the spymaster-word game Codenames for a while. Currently the 6th best-selling game on Amazon, we called it the best game of 2015 in December. That year grace period allows it to compete in the Spiel des Jahres, and we bet that it's going to take the title.
Created by Czech designer Vladimír Chvátil, CodeNames hits a family-game sweet spot: It's smart, it's quick, and it's deceptively simple. Players divide into two teams while the "spymaster" on each team offers one-word clues to help their teammates figure out themed patterns of the cards available. It's recommended for people ages 10 and up — fitting nicely into the "family game" requirement of the Spiel des Jahres. The immense popularity of the game makes it the strongest contender for best game of the year.
You have plenty of time to play these games for yourself and judge what you think is the best: The actual winner of the competition will be announced July 18th in Berlin.