'Fear the Walking Dead' Mid-Season Finale Burns Abigail Property, Splits The Cast
"Shiva" closes out a strong first half of AMC's improved Season 2 of its spin-off zombie drama.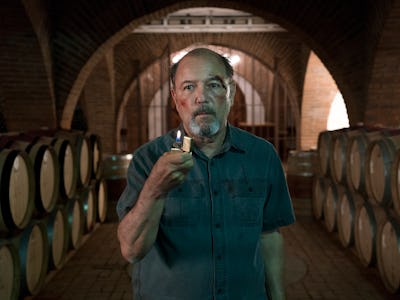 AMC
It's tradition in The Walking Dead that no safe house is actually safe. Herschel's farm, the prison, Woodbury, Terminus, and now the Abigail's plantation have fallen into disarray. In the mid-season finale "Shiva" of AMC's spin-off Fear the Walking Dead, the Abigail property and its de facto matriarch Celia (Marlene Forte) are set ablaze by an unhinged Daniel (Ruben Blades), haunted by his wife and his still-ambiguous upbringing in war-torn Salvador, forcing the survivors to move on unprepared. The group is now split across the desert, tearing apart Fear the Walking Dead's central premise of a family trying to keep things together.
After last week's arrival, Celia continues to develop a stronger bond with Nick (Frank Dillane) than with his own mother Madison (Kim Dickens). With Celia gone, Nick (somewhat correctly) presumes Madison killed Celia out of jealousy, enabling Nick to stubbornly wander off on his own, separate from the others.
The others does not include Travis (Cliff Curtis) or Chris (Lorenzo James Henrie). Nick isn't the only one who has a grudge against Madison, there's Chris who pretty much tried to kill her last week before Strand (Colman Domingo) shot his lover Thomas (Dougray Scott) before he turned. This season has had a heavy emphasis on killing or distrusting motherly figures and it's unclear where it's coming from. Or maybe everyone just hates Madison, which makes a lot more sense.
Chris recognizes he's tipping over mentally, and separates himself before he does something drastic — like actually kill Madison. He goes into self-exile, with Curtis joining him after Chris goes way out of character and holds a random family hostage in their own home. There's no rehab facility in the world of zombies, so a long walk is all Chris needs. And Curtis will be there, but not with Madison or the others, or Nick.
The main The Walking Dead taps into the number one fear, the number one question of the apocalypse: Whom do you trust? Its large ensemble characters are strangers who become family. Fear the Walking Dead opposes that, as most strangers have had agendas, secrets, even grudges. Sticking together as close as they have without accepting newcomers have proved ineffective. Will Fear the Walking Dead eventually learn the same lessons as Rick eventually had to?
They probably should. Even Rick has learned the hard way that refuge is just a temporary solution.