Overwatch's Final Character Trailer Shows the Game's Multimedia Potential
If Overwatch is a success, prepare for toys, movies, and more starring your favorite Overwatch characters.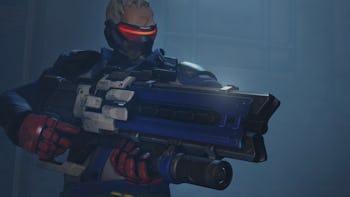 Blizzard
Today, Blizzard released the fourth and final character trailer before Overwatch's worldwide release on the 24th. While the new trailer is a cool little video showing off the mysterious Soldier: 76, it's really just further proof that Overwatch has the potential to be a huge multimedia success.
Like the other videos released so far, the fourth trailer, in a series of cinematic videos, stars a specific Overwatch character in his own independent, one-shot adventure. The other characters who have starred in his their cinematic trailers include fan favorites like Winston, Tracer, Widowmaker, Hanzo, and Genji.
Light on any actual gameplay information, these trailers instead focus on the lore and characterization of their large roster of playable champions.
With the final cinematic trailer, Blizzard might as well be teasing an entire cinematic universe based around their universally appealing characters. These stories are crafted with immense attention to detail and design that rival some of the best animated films out in full. This is only one avenue that is available to Blizzard if they're looking to expand their Overwatch brand beyond the video game.
Over the weekend, Blizzard partnered with Droga5 and installed massive statues of popular Overwatch characters all around the world. They included a Tracer statue on Hollywood Boulevard, a Genji statue in Paris, and a third yet-to-be-seen statue in Busan, South Korea.
These statues were cleverly presented as action figures, encased in a collector's box with character art and all the accessories included. While the "box"s choking hazard jokes that the accessories are too big to swallow, it proved that any potential Overwatch action figure would be incredibly cool to own in real life.
Blizzard may have found the perfect vehicle in Overwatch to grow beyond being a game developer. Overwatch has proven to have the sort broad appeal that can transition easily across a variety of mediums, and still have fans very excited. We'll have to wait and see if Blizzard follows through on any of these concepts.