First Look: Charlize Theron's Badass Villain in 'Fast 8'
Which Metallica album does Cipher like the most? I bet it's 'Ride the Lightning.'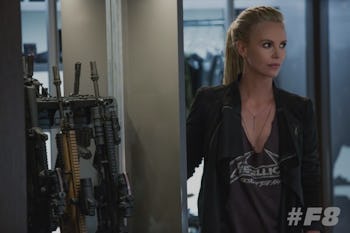 Universal Pictures
After denying Immortan Joe entry into Valhalla in Mad Max Fury Road, Charlize Theron will race muscle cars against muscle bros in F. Gary Gray's upcoming Fast 8, the next installment to the evolved Fast & Furious franchise releasing on April 14, 2017.
In a first look posted to the film's official Twitter account, Theron's character is revealed to be named Cipher, posited as the next antagonist with a penchant for vintage 'tallica and leather. She's seen in what looks like an armory stocked with assault rifles. She appears a worthy foe to Vin Diesel's Dominic Toretto.
Importantly: Is Cipher the next Shaw sibling? The Shaws were introduced in 2013's Fast & Furious 6 directed by Justin Lin, with Luke Evans as the villainous Owen. When Owen was thwarted by Dom's crew, big brother Deckard (Jason Statham) seeks revenge in Furious 7 from James Wan. Statham is set to reprise his role in Furious 7, but now Theron's Cipher is set to be another antagonist in the film. I really hope she's a Shaw. She's too good to not be a part of that messed up, over-powered family. Family is a dominant theme in these movies after all.
Speaking of family, Vin Diesel posted this goofy as hell Instagram video with Theron excitedly joining the Fast & Furious "family." I guarantee you it's the greatest thing you'll see this week. This month. Maybe ever. It's a lot better than all of 2009's Fast & Furious, no question.
F. Gary Gray's Fast 8 is currently filming and opens April 14, 2017.