Alden Ehrenreich Teams Up With Warren Beatty, Who is Basically Han Solo
'Rules Don't Apply' is Beatty's first big film in 18 years, and the cast list is impressive.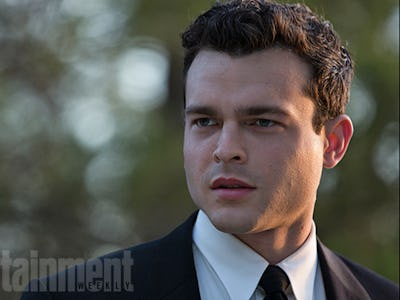 Warren Beatty hasn't been behind the camera for a major film production in 18 years. The actor-director's last big outing was in 1998's political rap-dramedy Bulworth, a satire that have stood as a decent final statement — until today's announcement for the new film Rules Don't Apply. Beatty directs and also plays eccentric billionaire Howard Hughes in what has long been his passion project, an unconventional love story set in the 1950s. There's a lot on the line for a period piece from a powerhouse creative whirlwind who hasn't released new material in nearly two decades.
The cast of the film includes Alec Baldwin, Matthew Broderick, Candice Bergen, Steve Coogan, and Annette Bening, but perhaps more importantly is fronted by the actor who we all now know as Young Han Solo. Alden Ehrenreich will get his third big introduction to the world, after toiling for years in TV shows, YA adaptations, and a small-but-memorable part in last year's Hail, Caesar!, which proved to be his big breakout.
Ehrenreich is matched opposite Lily Collins of The Mortal Instruments series, as two employees that work under Beatty's Howard Hughes. The film is described as not a Hughes biopic, and probably veering into the realm of comedy.
The last Beatty project of any note was a 30 minute Dick Tracy project created in 2010 for TCM, made only to retain the rights to the character. Beatty famously has a pre-occupation with making a sequel to his 1990 film, so I think we're all hoping that the success of Rules Don't Apply could get an older Warren Beatty back under the giant yellow fedora for some brightly colored watch-radio action.
Entertainment Weekly has two production shots from the new film: