NASA to Transport People In Private Spacecraft by 2018
"We are a year and a half away from launching astronauts from U.S. soil."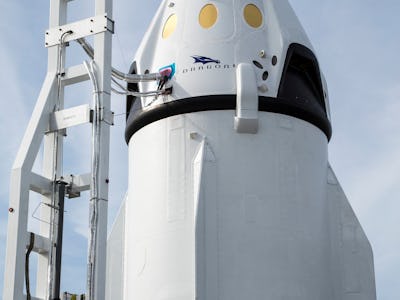 Virgin Galactic 
NASA Administrator Charlie Bolden said today that private spaceflight companies like Elon Musk's SpaceX, Jeff Bezos' Blue Origin, and even Richard Branson's Virgin Galactic would carry astronauts to the International Space Station via a commercial vehicle by at least 2018.
"It's a huge deal," Bolden said during a discussion called "There's No Place Like Space," which was live-streamed on YouTube. "We are a year and a half away from launching astronauts from U.S. soil."
Bolden appeared at the "Transformers" conference in Washington, D.C., hosted by The Washington Post and largely viewed as the pet project of Bezos, who famously founded and runs Amazon and bought the Post in 2013.
Bolden's year and a half deadline will mark a transition from relying on Russia's Soyuz TMA-20M rocket and the Soyuz vehicle, which carries astronauts and supplies from the rocket to the ISS. (SpaceX's Dragon has also carried supplies to the ISS, but never people).
Privately made spacecraft that could soon carry people to the ISS might very well be Virgin Galactic, Space X, and Blue Origin.
NASA retired its own space shuttle fleet in 2011.
In April, the Dragon carried a massive cargo load of more than 4,400 pounds — NASA called the spacecraft a "workhorse" — to the ISS. That shipment included the expandable BEAM habitat.
In September, SpaceX released images from the inside of its Crew Dragon spacecraft it hopes will carry people to the ISS. Here's what it looks like from the outside:
Bolden, a retired NASA astronaut, said that NASA had begun to consider the use of private companies to get NASA astronauts into space after the 2003 Columbia disaster. Bolden said that while the federal powers-at-be were at first lukewarm, "Obama said we're going to do it."
Bolden credited President Obama's 2010 address "Space Exploration in the 21st Century" as a turning point in the revitalizing the space exploration movement in the United States. This revitalization, Bolden emphasized at "Transformers," hinges upon a partnership between NASA, international space regulators, and private companies.
"A big part of my life is spent growing international partners," Bolden said with a chuckle. Competition between each of these entities, he says, is "absolutely critical" for the space program's success.
Fellow panel-speaker Julie Van Kleeck, Vice President at Aerojet Rocketdyne, emphasized the need for collaboration when it comes to a prosperous space program.
"No single entity is likely to do it alone — it's going to be a collaboration," Van Kleeck told the crowd.
While Virgin Galactic CEO George Whitesides may have been the panel's private spaceflight company representative, it is SpaceX which appears to be in the lead as NASA's best choice in using a commercial company. In April NASA announced that it was "particularly excited" about SpaceX's success with its Red Dragon, which Musk believes will be the first spacecraft to send humans to Mars.