Team Australia's Athletes Are Bringing Zika-Proof Condoms to the Brazil Olympics
An Australian pharmaceutical company wants to keep the Olympic Village Zika-free.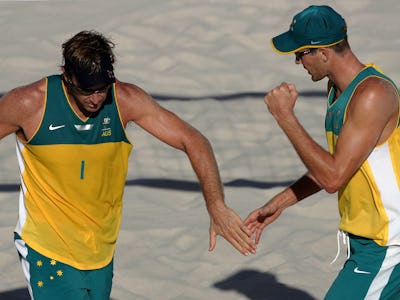 Getty Images/ Jamie Squire
Every four years, the best athletes in the world gather in one place, putting their scientifically-sculpted bodies and skills on the line for one purpose: to bone as much as possible.
We're not joking — the number one event at any Olympic Games, winter or summer, is extremely athletic sex. During 2014's winter games in Sochi, Russia, the first such even in the post-Tinder age, athletes used the app to find other freakishly-fit teenagers or 20-somethings and get down to near-constant funny business in the Olympic Village. Tinder only exacerbated an existing trend of Olympic orgies, which crashed gay-dating app Grindr during the 2012 summer games in London.
Authorities provided over 150,000 condoms to the Olympic village (where all the athletes eat, sleep, and bone down) that year, but this year's Rio games pose a different sexual dilemma — the Zika virus.
Zika can be transmitted sexually, and one Australian pharmaceutical firm is going to great lengths to make sure their athletes don't pick up the disease. Starpharma Holdings Limited announced that they would provide Team Australia with Ansell Dual-Protect condoms, lubricated with a special anti-virus gel that they said has been almost perfect at stopping Zika in its tracks mid-coitus.
Rio's Olympic village will already have 350,000 male condoms and 150,000 female condoms in free vending machines on every block, but Team Australia will be packing extra heat for their inevitable sexual exploits.
"Given sexual transmission of Zika virus is of increasing importance, the potent activity of Starpharma's VivaGel against Zika could prove very significant," Starpharma CEO Jackie Fairley said in a statement.
Zika isn't particularly dangerous to healthy adults (like stupidly-fit and sexy Olympians), but the more people it infects the greater the chances it can spread to pregnant mothers.
Babies with Zika-infected mothers are prone to microcephaly, which causes severe developmental issues including undersized heads and brains and can be fatal. The disease's epidemic presence in Brazil has caused controversy and apprehension before this summer's games, but Brazil and the international community are proceeding with the competition (and coupling) anyway.