CDC Issues Zika Virus Alert for Summer Olympics in Brazil
Pregnant women shouldn't travel to Rio this summer.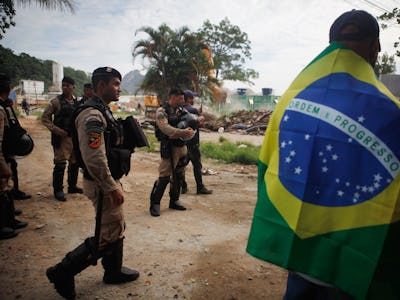 Getty
The Centers for Disease Control advised today that anybody planning to make the trip to Brazil for the Summer Olympics should "take steps to stay safe and healthy," specifically in regard to the Zika virus and recommended "that pregnant women consider not traveling to Olympics."
On Thursday, a woman contracted Zika just two miles from Olympic Park in Rio.
Here's the full statement released by the CDC about the Olympics:
Today, CDC issued advice for people planning travel to the 2016 Summer Olympic Games in Rio de Janeiro, Brazil, from August 5 to August 21, 2016, and to the 2016 Paralympic Games scheduled for September 7 to September 18, 2016. These recommendations provide information to travelers to help them take steps to stay safe and healthy during their trips. CDC's travel guidance for the Olympics covers a variety of health and safety topics, including information about the Zika virus outbreak currently occurring in Brazil. Because of the Zika outbreak, CDC recommends that pregnant women consider not traveling to the Olympics.
The Zika outbreak in Brazil is dynamic. CDC will continue to monitor the situation and will adjust these recommendations as needed. Current recommendations, based on CDC's guidance for any area with active Zika transmission, include these:
Women who are pregnant
Consider not going to the Olympics.
If you must go to the Olympics, talk to your doctor or healthcare provider first; if you travel, you should strictly follow steps to prevent mosquito bites during your trip.
If you have a male partner who goes to the Olympics, you may be at risk for sexual transmission of Zika. Either use condoms the right way, every time, or do not have sex during your pregnancy.
Women who are trying to become pregnant.
Before you travel, talk to your health care provider about your plans to become pregnant and the risk of Zika virus infection during your trip.
You and your male partner should strictly follow steps to prevent mosquito bites .
People considering travel should also refer to CDC's travel notice "Zika Virus in South America" for additional information: http://wwwnc.cdc.gov/travel/notices/alert/zika-virus-south-america.
If you're looking for any information about Zika on olympics.org, the official website of the Olympics, it's going to be hard to find:
In a different announcement on Friday, the CDC confirmed nine Zika-infected pregnancies in the United States.
Also on Friday, the U.S. Food and Drug Administration issued an Emergency Use Authorization for a diagnostic tool for Zika virus that will be distributed to qualified laboratories and, in the United States, those that are certified to perform high-complexity tests. The test is "intended for use in detecting antibodies that the body makes to fight a Zika virus infection."