The First Penis Transplant Will Force Men to Rethink Ownership of Their Junk
There won't be any penis transplants unless there are penis donations.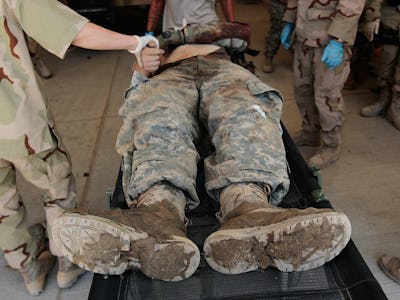 Chris Hondros/Getty
Thomas Manning is officially the first American to receive a penis transplant. After losing his penis to cancer, the 64-year-old underwent an experimental surgical procedure last week at Boston's Massachusetts General Hospital, which used an organ from a deceased donor.
If his successful recovery continues — physicians believe he'll be able to urinate normally within a few weeks, and he should regain sexual function within months — penis transplant surgery could soon become as commonplace as kidney, liver, or eye transplants. But it won't become a medical norm unless there are penises to transplant. Organ donation programs don't usually ask donors (or their families) to consider donating genitalia unless there is a specific request and the donor presents an immunological match for the would-be recipient. Those conversations are rare. But as the penis transplantation procedure becomes more streamlined, they could become part of the norm.
Manning's surgery, carried out by Dr. Dicken Ko and Dr. Curtis L. Cerulo of MGH, was the first in a series of 60 experimental procedures announced by researchers at Johns Hopkins University earlier this year. While the surgical technique is being developed in order to help war veterans that suffer genitourinary injuries in action, Manning's case illustrates how a much wider subset of the population could benefit as well.
It's hoped that all recipients of penis transplants will not only benefit physically but also psychologically. Penis injuries often make it impossible to urinate normally or have sex; it's perhaps no surprise, however grim, that among soldiers with severe damage to the genitals or urinary tract, the suicide rate is much higher than normal. Penis transplants could offer these (often young) men a second chance at a normal life — provided healthy American men will be willing to help.