Nintendo Announces Movie Plans to Produce In-House Cinematic Universe
The video game company looks to copy Marvel's success in producing feature films based on its own properties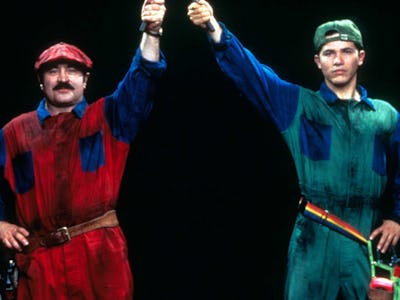 Nintendo
Nintendo is about to go from the small-screen to the big-screen — again.
Company president Tatsumi Kimishima announced today that the Nintendo will attempt to create feature films starring its most iconic characters within five years. But fans of the much-maligned live action 1993 Super Mario Bros. movie shouldn't get their hopes up; and don't expect to see John Leguizamo reprising his role as Luigi anytime soon. Kimishima announced that the push toward movie adaptations will either be hand-drawn or computer animation.
The news arrives on the heels of a recent uptick in big-budget video game adaptations like Warcraft and Assassin's Creed, which will attempt to turn the tide in the long list of terrible video game movie adaptations. But Tatsumi's announcement seems to hint at Nintendo's high-minded, yet small-scale approach
"We want to do as much as we can by ourselves," Kimishima told The Asahi Shimbun, all but confirming the company want to go the in-house Marvel route and produce movies of its own properties. Nintendo, then, is done relying on other studios to mess up the adaptations of its properties and just decided to go it alone.
But the movies they want to make most likely won't be gigantic productions. They'll probably be similar to something they put out earlier this year. Nintendo dipped their toes in the filmmaking waters when they produced Star Fox: The Battle Begins, a 15-minute animated short that preceded the release of its newest Star Fox title, Star Fox Zero, in April.
News of the filmmaking push by Nintendo also makes sense if you look at their sales numbers. Gamers have largely ignored Nintendo's Wii U console, their most recent hardware that, as of March 2016, had only sold about 13 million units, prompting the company to recently announce a new console, codenamed the NX, set for release next year. The proposed movies and the new console will expand iconic Nintendo characters beyond gaming and into the cultural consciousness — in the same way franchises like Marvel and Star Wars have.
There's no word on when we can expect these first Nintendo features, or who the movies will be about. But Mario and Link from Legend of Zelda would be the obvious choices.