Why Duncan Jones' s 'Warcraft' Movie Should Have You as Pumped as an Angry Orc
We're only a few months out from Duncan Jones's ambitious 'Warcraft' movie, and if you're not excited yet, you should be.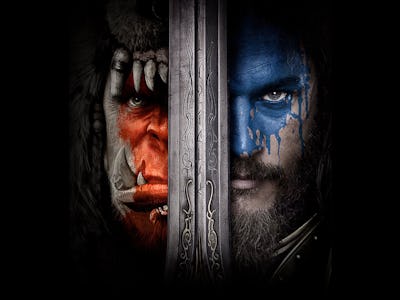 warcraftmovie.com
On Tuesday, movie audiences got another glimpse at the upcoming big-screen adaptation of Warcraft, when the film's (hitting theaters on June 10) second trailer was released by Legendary Pictures. Based on the long-running video game franchise from Blizzard, the humans versus orcs storyline has been turned into a cohesive narrative by filmmaker Duncan Jones (Moon, Source Code). If you're the kind of person who's put off by movies based on video games (and, historically, you have good reason to be), there's no need for such cynicism where the Warcraft movie is concerned.
The Story Is Going To Epic and Intimate All At Once
When the orcish realm of Draenor faces an apocalypse, its giant, green inhabitants' only hope is to flee through a portal into the human world of Azeroth. Of course, the humans occupying Azeroth aren't too happy about the invading army. The Warcraft film sees two strong leaders, Anduin Lothar (played by Vikings Travis Fimmel) and orcish chief Durotan (a CGI-covered Toby Kebbell), facing off in a heated battle that will determine the fate of their people.
In the hands of master craftsman Duncan Jones (who we'll get to), such a story has the potential to be as emotionally compelling as it is outright thrilling. When Jones made the pitch to Blizzard, he said:
"I wanted to make a war movie and I want to tell the story from both sides. I want heroes on both sides and I want people to sympathize with both sides. I want you to feel bad that good characters from both sides are going to find themselves in a conflict that there's no way out of. Thats the film I pitched and that's what I feel we delivered on."
So, just because one of the stars is a big, green monster, don't expect him to be any less sympathetic a character. This a story that's designed to invoke actual emotions — beyond simply awe. Of course, there'll be plenty of awe, too.
And The Crew Is Up To That Task
First off, the film is being helmed by Duncan Jones, who admittedly only has three movies in the can … one of which is Warcraft. However, in the two movies Jones has directed, we've seen a capability that reaches beyond his years. He broke onto the scene with 2009's critically lauded Moon, which cinemablend called, "riveting," adding that it "packs a potent punch."
After that, Jones moved on to Source Code, another critically praised film, starring Jake Gyllenhaal. In contrast to Moon's solitary lunacy, Source Code demonstrated Jones's ability to up the tension and get down to some good old-fashioned action.
Backing Jones up in the writing department is Charles Leavitt, a man who's been knocking around Hollywood for almost 20 years. While you'd need to forgive him for his involvement in Seventh Son, it's also worth mentioning that Leavitt has also demonstrated a knack for getting characters right on screen. He wrote 2006's Blood Diamond, for example, a film that was both incisive and explosive. Paired with Jones, Leavitt's skill set may just be a great addition.
While we're on the tech side of things, it's worth pointing out that the film is being scored by Ramin Djawadi, the man behind Game of Thrones' beautiful music.
You May Not Know The Actors, But You're In For a Treat Anway
Without having seen even a single real scene from the film, it's already easy to tell you that the cast is perfect. Not because I have inside knowledge of the film's characters, but because the assembled talent all never fail to meet an acting challenge, even if the film around them wasn't exactly great.
The film's eminently capable leads are backed by some of the best new character actors in the business. You'll probably recognize Dominic Cooper as King Llane Wrynn, best known for his role as the cad Howard Stark in the MCU. Then there's Ruth Negga, who's set to steal the show on AMC's upcoming Preacher adaptation. Veteran "that guy" Clancy Brown (The Shawshank Redemption, John Dies At the End) is also strapping on some CGI to play Blackhand. Ben Foster is throwing around magic as Medivh, and Paula Patton is taking the "sexy orc" route as Garona.
Every member of the team has a career marked by standout performances. They're a committed group of actors who will all have a real chance to shine under Jones's careful guidance.
It's Not A Movie Based on a Video Game, It's a Film Based on a Video Game
Finally, its important to take into account the respect aspect of the film. In case you were unaware, video game adaptations' reputation among moviegoers isn't exactly sterling. Ask any gamer worth his or her salt and they'll tell you that isn't because video game stories suck, it's because historically Hollywood has zero respect for the medium.
Fortunately for gamers and moviegoers, Duncan Jones is a gamer from way back. What that means is that Jones approaches the project with a measure of respect rare in a video game adaptation. As he told The Guardian last November about getting the job, "Here was a unique opportunity to take a game that I knew well and loved and try to craft something that would invite an audience to see what all the fuss was about. I wanted to give people a sense of why so many people play and care about the game."
That enthusiasm for the material combined with the collected talent (both in front of and behind the camera) is a really exciting recipe. If there's one man on the planet who can help redeem the world of video game narratives in the eyes of mainstream pop culture, it's the man who says, "You could make a film out of just about anything so long as there is a clear vision about the story. Be it a video game, comic book or cheque book, the question always is: what story do you have to tell?"