New 'Warcraft' Movie From Duncan Jones Brings the Violence and the Dubstep
Another trailer for Duncan Jones' 'Warcraft' film is light on content but heavy on the sweet, sweet action.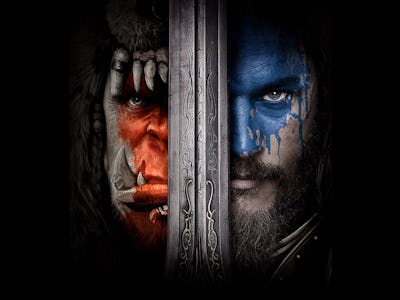 warcraftmovie.com
On Tuesday morning, the official Facebook page for Duncan Jones's highly anticipated Warcraft film released another trailer for the sword and sorcery epic. While the plot of the film seems a little rote on paper (there's an evil coming … go!), the footage shown in the trailer looks truly epic. The HD version of the trailer, which was put up on YouTube, looks even cooler:
First thing's first: we have to address the music, because it should not go unnoticed. You might call the thumping dubstep soundtrack jarringly anachronistic if the film itself wasn't based on the premise that giant green monsters can hang out with human people, but not to worry, because that is not the sound of the Warcraft film. The music choice even seemed to upset Jones himself, as he took to Twitter this morning to address the score, which was actually composed by Ramin Djawadi (who scores Game of Thrones).
Beyond the dub-ious music, the trailer offers a lot of Lord of the Rings-type promise. Each shot is crammed full of fantastical goodness. Charging armies, winged beasts, magic; it's all there. What's more, with Duncan Jones (Moon) at the helm, fans of the video game can expect some real character depth and an actual plot, as opposed to the typical shallow, CG-laden fare of summer.
On screen, the cast is a veritable who's who of "that guys". There's that guy from Vikings (Travis Fimmel), that guy from the Marvel movies (Dominic Cooper), that guy from Sleepy Hollow (Clancy Brown), that lady from all those Denzel movies (Paula Patton), and Ben Foster. While you may not recognize the names, you'd recognize the faces as a talented troop of actors who are consistently engaging and fun to watch.
Warcraft is set to follow the journey of two enemies (one orc, one human) who join to combat a threat that's invading their realm via magic portal. In the hands of Duncan Jones, and backed by such a talented cast, that story has a lot of potential.
We'll find out for certain when Duncan Jones's Warcraft hits theaters on June 10.