New International 'Warcraft' Clips Try to Familiarize the Movie's Fantasy World
Can Duncan Jones pull off a 'Lord of the Rings'-esque fantasy epic, or will 'Warcraft' be another bad video game adaptation?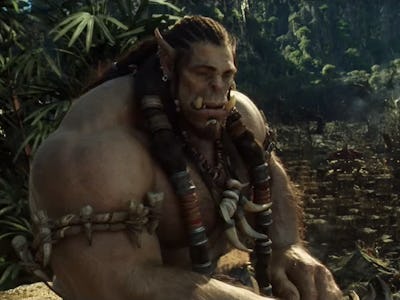 YouTube / ComicBook.com
Four new clips from the upcoming fantasy blockbuster hopeful Warcraft have made their way online following a smattering of trailers teasing the film's release, slated for next month. The epic video-game adaptation from director Duncan Jones has a lot of geeked-out weight on its shoulders, mostly because it's detailed video game mythology could potentially alienate viewers unwilling to try and comprehend the folklore. Thankfully the four separate looks at the new movie seem to try and acquaint viewers with the fantasy world of wizards, orcs, kingdoms, and interspecies battles.
We have actor Ben Foster as Medivh, a powerful wizard antagonizing his apprentice Khadgar (played by Ben Schnetzer); Travis Fimmel from Vikings as the lead character Anduin Lothar, helping his men battle the brutish orc Horde; Paula Patton as a half human/half orc named Garona Halforcen torn between both worlds; and Durotan (Toby Kebbell) and Orgrim (Robert Kazinsky) debating the fate of their people.
Without any context, these clips definitely seem confusing and can't help but pile fantasy trope after fantasy trope on top of one another. But the whole thing seems to be an unabashedly fun Lord of the Rings-esque epic with some seriously amazing special effects. The photo-real look of Durotan looks especially great. Also, you can't help but trust Duncan Jones, whose genre films like Moon and Source Code prove that dude's got talent.
Take a look at the clips below:
Warcraft is set to hit theaters like a wild orc on June 10th.