'Billy Lynn's Long Halftime Walk' Trailer Shows Off Its Insane 120 fps Frame Rate
Director Ang Lee's unprecedented new war movie will be shown in 3D in 4K resolution.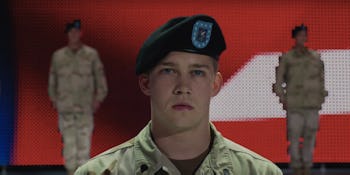 YouTube / Sony Pictures Entertainment
Four years ago director Ang Lee attempted to push the boundaries of visual effects and 3D with his adaptation of author Yann Martel's book Life of Pi, which nabbed the filmmaker a Best Director Oscar for his efforts and became a worldwide smash hit. Now, Lee is back adapting a novel again, and once again is attempting to push the envelope of the moviegoing experience with the Iraq War movie Billy Lynn's Long Halftime Walk. The new trailer — featuring a slowed down choral version of David Bowie's always reliable "Heroes," and a seriously eclectic cast featuring Vin Diesel, Kristen Stewart, Steve Martin, and newcomer Joe Alwyn — just dropped and it looks to be another classic human drama from Lee.
The movie tells the story of a 19-year-old army private and Iraq War soldier who returns to the United States with his squad to be sent on victory tours in support of the war. Back in the States, the soldiers are invited to make an appearance during the halftime show of the Thanksgiving Day game of Dallas Cowboys, and the heart wrenching story of how Lynn got to that point is presumably told in flashbacks.
But what sounds like another in a long list of American Sniper or The Hurt Locker-esque Iraq War movies is actually something more innovative. Though it literally can't be conveyed through a little YouTube video, Lee is attempting some groundbreaking filmmaking on Halftime Walk. The filmmaker shot the movie at an unprecedented 120 frames per second, up from the normal 24 frames per second that normal features films are usually shown in. The extremely high frame rate is to make the images in the movie something more akin to reality, ostensibly so the audience can actually feel like they're watching real life. Lee matched the 120 fps with a mix of 3D and 4K resolution, which is a triple threat never before seen in a feature film.
It's, in short, a bit of a gamble. Director Peter Jackson futzed around with high frames rates for his epic Hobbit movies in 2012, going beyond 24 fps and presenting his movies at 48 fps. Critics of the format at the time said it looked too much like a soap opera-type video that had the adverse effect of what Jackson was going for: it took you out of the experience. Remember, Lee, whose movie doesn't feature orcs or Hobbits or goblins or Gandalf shot his movie with just under three times more frames per second than Jackson.
Lee presented 11 minutes of the complete 120fps package at the National Association of Broadcasters Show in Las Vegas last month, and the response was overwhelmingly positive. Per The Hollywood Reporter, Society of Motion Pictures and Television Engineers standards director Howard Lukk said, "I'm shaking. That content combined with the technology — it was the most compelling 3D I have ever seen."
Douglas Trumbull, the legendary filmmaker and visual effects pioneer who worked on classics like 2001 and who dabbled in high frame rates with movies like and Brainstorm, said of Lee's presentation, "It was like being there, which I anticipated. It looks like he will be delivering a stunning movie experience. I'm trembling."
The problem for general audiences is that there's currently no digital projectors capable of playing a 4K, 3D movie at 120fps. But theaters will have about six months to prepare for that.
Here's the synopsis:
"Director Ang Lee brings his extraordinary vision to Billy Lynn's Long Halftime Walk, based on the widely-acclaimed, bestselling novel. The film is told from the point of view of 19-year-old private Billy Lynn (newcomer Joe Alwyn) who, along with his fellow soldiers in Bravo Squad, becomes a hero after a harrowing Iraq battle and is brought home temporarily for a victory tour. Through flashbacks, culminating at the spectacular halftime show of the Thanksgiving Day football game, the film reveals what really happened to the squad – contrasting the realities of the war with America's perceptions. The film also stars Kristen Stewart, Chris Tucker, Garrett Hedlund, with Vin Diesel, and Steve Martin. Lee used new technology, shooting at an ultra-high frame rate for the first time in film history, to create an immersive digital experience helping him dramatize war in a way never seen before."
Lee's potential Oscar contender is scheduled for a Nov. 11 release.