Littlefinger Returns in New 'Game of Thrones' Photos for 'Book of the Stranger' 
In new photos for Season 6 episode 4, Littlefinger is back, Tyrion is in trouble, and the Queen of Thorns continues throwing sass.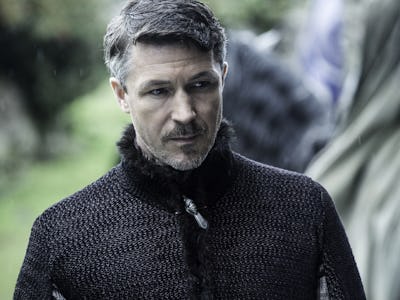 HBO 
The next episode of Game of Thrones, which will be called "Book of The Stranger", has just released its promotional photos. Naturally, they don't reveal much more than various characters sitting or looking at things — because the show is well aware of how the internet pounce on every tidbit like we're The Hound pouncing on chicken. Nevertheless, there are some intriguing location changes and returning characters. And no, we don't mean The Hound, because although he's almost certainly returning, they aren't about to reveal that before the episode.
Littlefinger Returns
The most exciting photo is Littlefinger's return, because as the Wild Card of Westeros, we never know what plot shenanigans he'll bring or what region his accent will stray into. Will chaos still be a ladder, or maybe a drawbridge now?
#### Daario and Jorah do some spying
Immediately after this picture, right when it looks like they might rescue Daenerys, Jorah will morph into a stone man and attack Daario.
Sass masters convene
Lady Oleanna Tyrell and the underrated sass master Kevan Lannister might look grave, but they can't fool us. Epic shade is surely being thrown here.
#### Tyrion needs an army
The Meereen plot has been limping along this season, but look, shields! Perhaps some real action will happen.
Theon goes home for real
For anyone who worried a brainwashed Reek would return to Ramsay after parting with Sansa, don't fear. We have definitive proof he's truly returning to the Iron Islands.
Daenerys continues to be riveting in an action packed story
Oh look, Daenerys is still with the Dorthraki. This will surely move her story in new and fascinating directions. Perhaps she'll loftily state her titles for the 500th time!
"Book of the Stranger" airs on Sunday. Put your Cleganebowl tinfoil hats on.