Why Jeremy Clarkson Named His Amazon Show 'Grand Tour,' Instead of a Dick Joke
Each episode will take the former 'Top Gear' host, Richard Hammond, and James May to a different location across the world.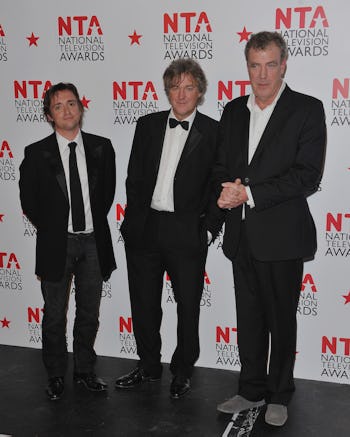 Gareth Cattermole / Getty
Former Top Gear host Jeremy Clarkson's getting closer and closer to his return to TV, but you shouldn't expect to see him on the BCC anytime soon.
The host, equal-parts popular and controversial, was booted from his last job after he punched and verbally abused a Top Gear producer. Top Gear replaced Clarkson with Matt LeBLance, but he rebounded quickly by signing a multi-million dollar contract with Amazon to produce a new car-centric show along with his two former co-hosts, Richard Hammond and James May.
On Wedneday, Amazon revealed that Clark's new show would be called Grand Tour.
Clarkson asked for input from fans, and their satirical suggestions included House of Cars (when it was rumored that Netflix could pick up the show), Gear Knobs, or Dipsticks. But in a press release, Clarkson explained why he eschewed such suggestions: "We'll be traveling the world hosting each episode in a different country, from a giant tent," he wrote. "It's a sort of 'grand tour,' if you like. So we've decided to call it The Grand Tour."
Tent fans will be overjoyed, and we assume so will car fans.
Hammond and May, always the straight men to Clarkson's entertainer, also offered their underwhelming-to-cloying responses about the name. "I wanted to call it 'Nigel', or 'Roger'. We needed a name, and they're names," said May. "We are like our pioneering and prospecting forebears, sallying forth into a new frontier of broadcasting, and making our home where… before trailing off in what the press release explains his co-hosts "strangled him with a guy rope."
Streaming viewers have gotten used to the binge method of watching entire seasons of shows at their leisure, but the new series is expected to stick to the once-a-week schedule, with each episode taking place in a different location across the globe. The idea behind the studio audience tent format seems to be something akin to a contemporary circus roadshow, with Clarkson as the Buffalo Bill-esque figure leading his minions of conveyance into executing astonishing feats of internal combustion from London, Sydney, New York, to Abu Dhabi, and everywhere in between.
The Grand Tour will premiere for Amazon Prime members this fall, so let's hope Clarkson can be on his best behavior until then