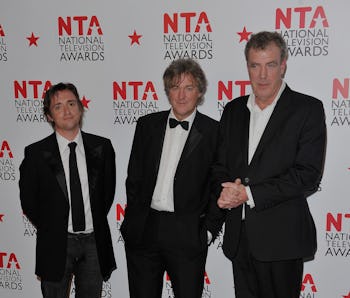 Innovation
Ex-'Top Gear' Hosts Sign Amazon Deal, But the Show You Knew Is Gone
Amazon will premiere the further adventures of Clarkson, Hammond, and May in 2016.
Getty
Jeremy Clarkson has a new car show with Amazon, but in full flower of Clarksonosity he couldn't resist one more swing at his former employers. "I feel like I've climbed out of a bi-plane and into a spaceship," he said in Thursday's announcement, which regarded him and fellow former Top Gun hosts Richard Hammond and James May leaping from the BBC.
Clarkson was famously shitcanned after allegedly physically and verbally abusing show producer Oisin Tymon. On Top Gear Clarkson was more or less an older, grumpier Noel Gallagher for gearheads; Hammond and May were basically straight-men by comparison. Without Clarkson being preciously outrageous, who knows if the dynamic will survive.
Anyway, very little is known about the new show yet. Amazon hasn't even named it, and the only sure details are the premiere year and the promise to go into production shortly with the trio's longtime executive producer Andy Wilman. But it seems unlikely they can just redo the classic Top Gear formula, or that they'd even want to. A clause in the hosts' BBC contract prevented them from fronting a motoring show with any rival British broadcaster until April 2017. This skirts the no-compete.
As for the original show, Top Gear is still the BBC's biggest money-maker, bringing in more than $50 million a year for the commercial arm (suck it, Whovians) so there's no way they're letting it drive off into the sunset with any dignity. Radio 2's Chris Evans — not to be confused with Captain America — has been hired as Clarkson's replacement, but there's nothing official yet on who'll pick up for May and Hammond. The BBC is calling the new version a "remake" of the classic, and we all know the success rate for remakes. Whoever ends up rounding out the trio won't want to invite comparisons any more than he/she has to. We can just forget the classic formula.
So far the best cause you have for optimism is Clarkson's complaint that dealing with Californians has made him cut back on boozing in the evenings. You may look forward to more of his dry wit, then, perhaps a drop drier.