The New 'Top Gear' Co-Host Is Matt LeBlanc
Joey is getting behind the wheel.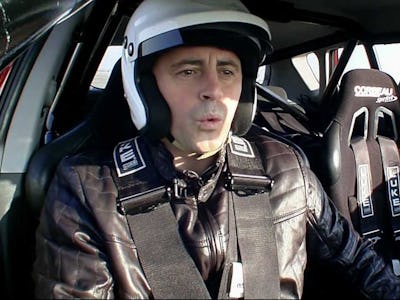 BBC American
Matt LeBlanc, known to everyone as Joey from Friends, has a new gig, co-hosting the hit BBC show Top Gear.
He will join (the British) Chris Evans as one of the long-running program's designated autophiles.
The previous hosts left the show for a gig at Amazon, after Jeremy Clarkson, one of the hosts, punched a producer, effectively spoiling the relationship.
The new duo of Evans and LeBlanc should allow the show to transition into a new era without isolating its intercontinental fan base. Evans is a well-known presenter and host in Great Britain, whereas LeBlanc remains one of the most recognizable faces from television this side of the Atlantic. He has also spent the past few years pulling in Emmy nominations and one win for his appearances on BBC's Episodes.
It's not clear whether the new hosts have any changes in mind for the show. Joey (sorry, LeBlanc) has twice appeared on Top Gear in the past, both times test-driving the Kia Cee'd and both times posting record times. He appears to enjoy himself tremendously, so he may just be looking forward to spending more time behind the wheel.
In fact, LeBlanc's enthusiasm for his new role is evident, posting on Twitter that he's honored to work with the "tall" Evans:
But he's also ready to take on anyone who thinks they can challenge his records.
The only challenge for LeBlanc may be convincing American viewers to put him behind the wheel. We're all still a little weary of dopey Joey traveling at anything like high speeds. It would make us all feel much better if he would just stand by the cars and look like he knows what he's doing. That, at least, we've seen before.
The new series will premiere in May on BBC America.