Ride The 'TRON' Lightcycle At Disneyland Shanghai
This past weekend's soft opening gives us a new look at what's in store.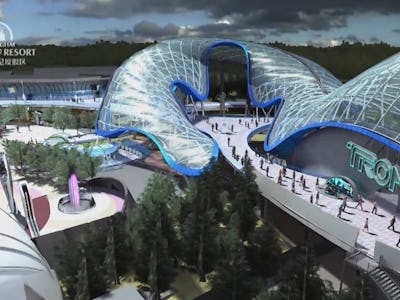 Inside The Magic
The new Disney resort in Shanghai hosted a reported 30,000 special guests over the weekend for a test outing in preparation for the park's official opening on June 16. This resort, while will become company's sixth worldwide, cost an estimated $5.5 billion to construct and has been about five years in the making. Tickets for opening day sold out in a matter of hours.
The park clocks in at 963 acres and will feature the biggest castle to date, an absolutely decadent looking Enchanted Storybook Castle. The aerial drone photos released last week are pretty mesmerizing and give you a sense of the sheer scope of this place. You can also see drone video here.
The first video footage to emerge takes us inside the highly anticipated TRON Lightcycle Power Run. This coaster has been heavily hyped in previews and concept art released in the run-up to the park's opening. The ride is one of the main features of Tomorrowland, with it's curving, color-changing canopy dominating the landscape.
Instead of the classic roller coaster seat, this ride puts you on a replica Lightcycle and plunges you into the disorienting darkness of the Grid. You won't find big loops or drops on this ride, so it may not impress serious coaster buffs, but there seem to be some viciously cool multi-colored LED effects which manipulate your perception of depth and space. Inside The Magic brings us the video footage. Take a look:
Tomorrowland will also prominently feature an "Astro Orbiter-style jet pack ride, and Buzz Lightyear shooter."
Elsewhere in the park, expect Toy Story and Pirates of the Caribbean to feature heavily. The latter is the basis for Treasure Cove, one of the park's six different lands, and appears to include both rides and interactive experiences with costumed cast members. Classic Mickey is, of course, still a fixture. This charming Steamboat Willie fountain sits just inside the main gates.
If any Disney fans outside of Shanghai are beginning to feel too envious, remember stateside park-goers still have Star Wars land to look forward to.