Radiohead's 'A Moon Shaped Pool' May Be Their Best Album in 15 Years
Radiohead, as in the 'Kid A' era, found a way to both be a Band and challenge their fan base once again.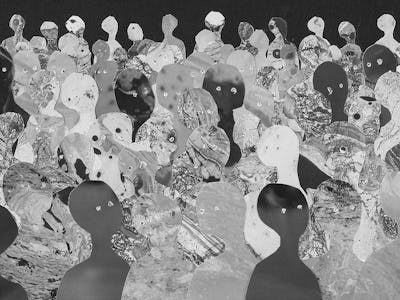 No one could have predicted Radiohead's next move, but cynics might have assumed the worst.
Let's use the corniest possible rockist analogy to trace their previous, archetypal career trajectory — after all, Thom Yorke, the Greenwoods and Co. are the closest thing we've had to Beatles during the past two decades. Call Hail to the Thief Radiohead's White Album, the deliberately bloated, throw-everything-at-the-wall compendium after a visionary redirection (Kid A is superior to Sgt. Pepper's — I'll acknowledge that as the weakest link in the analogy — but Amnesiac is a easy fit as a Magical Mystery Tour equivalent). Then came a placid but consistent experiment, In Rainbows, which managed to wring all the moods possible out of a rock band in its most elemental form (Abbey Road). The patchy King of Limbs/Let it Be, then, forced us to confront a bunch of guys that might have had better things to do at the time — enjoying getting together to jam, but participating at varying levels. Sometimes there was the gnawing feeling that only one among them was running the show.
This is all by way of saying: Radiohead had already had a full, logical run as a band. Was a compelling expansion of their sonic universe possible at this stage of things?
The pre-release singles "Burn the Witch" and "Daydreaming" didn't indicate a clear direction for A Moon Shaped Pool. Going off those songs, one could still have speculated that Radiohead would persist in their slightly-too-comfortable, just-a-rock-band phase and coast along, signing off on what felt most fun and least pressured for them. Many came to love King of Limbs, but after a couple more albums hot-potatoing ideas from that album, In Rainbows, and the Atoms for Peace LP, their public might have rightfully counted Radiohead out. It can't be an easy thing to sustain, being the most innovative, culturally resonant, and proudly modernist Rock Band going.
It remains incredible, to this day, to think that Radiohead forced new audiences to address the glitchy, brittle electronica of Aphex Twin and Autechre on Kid A, and even odder, more haunted digital landscapes. It's also cool, in 2016, that Radiohead is testing old fans with an album dominated by experimental classical gestures, one which sometimes dare to overtake an entire track. These moments on A Moon Shaped Pool, of course, courtesy of multi-instrumentalist Jonny Greenwood, who, especially since the time of the last Radiohead album, has become a professional-grade composer of orchestral and choral music.
Today Jonny's solo career feels more dynamic than Yorke's. Unlike the National's Bryce Dessner — who has risen to similar levels of fame in the "new music" world — Greenwood delivered the scores for multiple "event" films from critically beloved director P.T. Anderson, who also made a movie about Greenwood last year. This context has helped his highly dissonant compositions resonate more broadly and hauntingly than they would of as solo releases.
But A Moon-Shaped Pool — a beautifully restrained and inventive album — is not simply an excuse for Jonny's breathtaking arrangements, though his seasick swoons often enhance songs that risk tedium or rote Radiohead-ness. Don't like the melody or sore-thumb "low-flying panic attack" line that anchors "Burn the Witch"? Wait for the screeching instrumental release. Is your attention fading by the middle of "Tinker Tailer Soldier Sailor Rich Man Poor Man Beggar Man Thief"? Greenwood's closing section in the songs is arguably his most virtuosic contribution to the album; it rescues us.
"Ful Stop" is a kraut-y, unichordal Yorke drone, with a two-note bassline hearkening back to Kid A's "The National Anthem." But all around it is Jonny's noise, and the vintage, detuned synth which wavers throughout this album. This is probably the Prophet device that producer Nigel Godrich (this albums secret, essential weapon — it must have taken undying expert attention to get these subtly shape-shifting, sometimes busy songs to sound so crisp and natural) posted on Twitter yesterday:
Despite the fact that a full four of these songs dont include much more than a piano, strings and assorted atmospherics, This is a Band Album, more than The King of Limbs or even In Rainbows. Both of those releases, at moments or nearly throughout, felt like a band playing songs that you could nearly hear in your head in a Thom solo treatment. That is to say, everyone seems to truly have added a unique, almost independent voice to every song on which they are involved.
After decades of playing together — playing both against type overall and contrary to each other's ideas within a song — Radiohead still sounds like the same band, even when they're, say, playing to an odd English folk-style guitar riff ("Desert Island Disk") or compartmentalized electronic loops. Phil Selway's jazzy, impressionsitic sensibility resembles '60s jazz/fusion icon Tony Williams', and Colin Greenwood still knows how to squeeze basslines in the most unexpected nooks of a groove. Any member of the band has the capacity to transform a song entirely; often, it's tough to figure out who to choose.
No, there are none of the larger-than-life choruses of previous albums — precious little dramatic, soaring melodies of the "Paranoid Android" or "Knives Out" variety. Instead, there are spare, frantic, circular refrains which toss one phrase around — see the strangled, dual vocal tussling in "Identikit" (Broken hearts, make it rain…") and the hip-hop-like vocal cadences and backbeat of album highlight "Decks Dark (It was just a lie, just a lie…") They can sound worried, heartbroken, or demented at different turns.
The sound of Yorke — close against the mic, murmuring mournfully and without dynamics — is the dominant approach throughout A Moon Shaped Pool. It feels appropriate for a band who has delivered more than their fair share of histrionics over the years. Perhaps they exorcised the last of it on angry tome Hail to the Thief, or maybe we'll get a Trump-themed industrial album in a year or two. In any case, we're safe for now.
Yorke's perpetual despondence is myopic, but appealingly so: There's plenty here than simply seems to be about a (his?) dissolved relationship, and that's a welcome change. It's not the government who is deaf, dumb and blind" on the beautifully restrained, choral-backed "Present Tense"; its just Yorke. Even when society is the thing supposedly tweaking him out — it forces him on a train to nowhere in twinkling, damaged collage "Glass Eyes" — it seems to be some latent truth within himself he's really running from. Yorke is rarely the sardonic, soothsaying political authority — he's an unreliable narrator.
Above all, it is Radiohead's humility on this album that makes it their most unexpected statement since Amnesiac. The most self-important and most disheartening gambit would have been sinking the talons in further on the Can-or-Autechre grooves of the past two albums and calling it a career, or for that matter, spending an hour or excoriating the drone program or the continuing Orwellian/Fight Club-ian ramifications of the Patriot Act, in no uncertain terms.
Instead, with Pool, we get a document of a band deepening their musical alliances, exploiting newfound skills, and testing their inclinations at every turn. The final product is more than successful, and emotionally moving in a way no other Radiohead album has ever been. It neither sounds too low-stakes or like some overbaked attempt to reclaim visionary status.
Sure, you can hear plenty of the component parts the many points of pre-existing inspiration. The cascading bookends of "The Numbers is as if Yorke hired a crack pianist to come in and imitate Alice Coltrane; on the new, symphony-for-pianos version of live favorite True Love Waits" that closes the album is a clear attempt to make the song (which Godrich was concerned would turn John Mayer-esque on recording as early as 2012) into a piece of Steve Reich-esque minimalism.
Nonetheless, the basic musical vocabulary and syntax here is all Radiohead —a collection of combinations as unlikely and daring as any of their previous albums, full of the idiom-busting style no one else ever gets exactly right, no matter how hard they try.